Eastern Europe has definitely surprised me in every aspect. Aside from its culturally enriched cities and countries, we were able to have friendly local experience from touring around mind-blowing sceneries. Our first stop was the multicultural city of Berlin with its laidback lifestyle. We roamed around the city armed with nothing but adventurous heart. We were ready for another surprise in this trip. The number one in our list, of course, was the Berlin Wall. It was not until 1989 that they took down the barrier and it became sightseeing to tourists.  Then off we went to Brandenburg Gate that marked the start of the road from Berlin to town. We ended our first day with a trip to Sanssouci Palace where we saw the Sanssouci Glitter Pavillion.
On our second day, we experienced diverse culture in the city of Warsaw in Poland. This country may have suffered in the past, but every corner we went to was telling otherwise. The beautiful skyscrapers and structures of the city ushered us in. We went inside the Palace of Culture and Science and I felt so jealous. How I wish Manila had the same. Inside we saw cinemas, theater, library, and the like. The 42 floors of culture explosion have totally got me going while inside the building. Our next stop was the romantic Łazienki Park manicured with greens and wild patches. Slowing down our day in this picturesque park was a splendid idea. Aside from seeing the Chopin monument, we were able to sit down and just appreciate the beauty nature has offered. To close our day in Warsaw, we swung by the Old Market Place and left our footprints at their mesmerizing and colorful plaza.
We ran along the tour and arrived at Czestochowa at night. We grabbed some drinks at Carpe Diem Klub and spent the night talking and talking for hours. The following day, we got up early to pay a visit to Jasna Gora Monastery. The icon of the Virgin Mary who was believed to perform a miracle, Black Madonna of Czestochowa, was incredibly beautiful. After hearing the mass, we toured around Auschwitz Concentration Camp where people believed thousands of prisoners died and were murdered. A long queue was outside waiting for their turn for the tour and once inside, The stories told us made us cringe and felt eerie.
As we travel along the Old Town of Krakow, Poland, we sift through the royal capital for some downtown activities. We walked around the city center with much glee and excitement as we took a carriage ride and toured within the plaza. Mini castles and remnants from the war were the sightseeing we witnessed in this city. Restaurants were all over the streets and buskers were there to entertain us.
The next day, we took the time to explore the UNESCO World Heritage Wielickza (Vyeh-leech-ka) Salt Mine where every pit and chamber was made of salt. From the walls to the labyrinth tunnel with 327m deep, everything was carved by hand. I enjoyed this trip so much and what a fascinating place to be at. I tasted the salt wall first hand and it was without a doubt amazing and surreal. My favorite of all were the chandeliers that were made of salt. We moved to Wawel Castle to wander around the five-part museum. This was also where you can find Da Vinci's masterpiece, The Lady with an Ermine. We visited the Oskar Schindler's Enamel Factory's Museum of Contemporary Art and Historical Museum of the City where they showcased the time of Adolf Hitler's dictatorship and Nazi Party. To end the day, the sanctuary of Sister Faustina was our stop. We saw through remnants and souvenirs how she lived and how loyal she was in serving the Lord.
Austria was filled with contrasts that left us adapting to its changing landscapes and settings. Packed with historical stories and quiet corners, Vienna has offered a variety of sightseeing that was truly remarkable. Our day started at the imperial summer residence- Schonbrunn Palace and toured around to see the most important architecture and monuments in the country. Next was the Belvedere Gardens where we walked through the bed of grass in front of the historic building. To end the day, we fill our tummies with a rack and half of ribs from Ribs of Vienna. With such variety of flavors and choices, this restaurant was instantly filled with patrons. No wonder we were advised to reserve beforehand.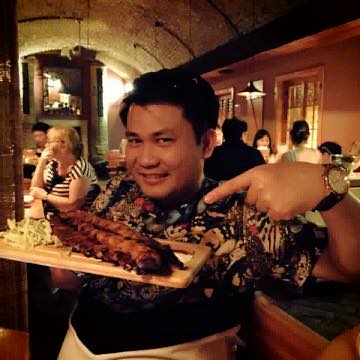 For our last day in Austria, we did not miss Figlmuller Restaurant. This talk of the town was known for its menu of great tasting wines and schnitzels. When in Vienna, trying Viennese cuisine was a must. We had a last few glimpse at the Mozarthaus and The Opera House where we witnessed the installation of the red carpet for the world premiere of Mission Impossible: Rogue Nation. Now off we go to Czech Republic for the last leg of our trip.
Being Europe's most popular travel destination, Czech Republic has transported tourists like me back to 500 years ago. Our first stop was at Mala Strana and had a chance to set my eyes on a vast land of grass and trees. We traverse along the plateau of Cesky Krumlov and spotted the glory of the castles and old town square. I personally enjoyed strolling around this "Little Prague" because of each structure's culturally enriched façade, classy boutique hotels, and dramatic setting. We were just in time for a stroll at Prague's cobbled lanes and hidden courtyards. It was already nighttime when we arrived at the Old Town Square and people-watched.
We were down to our last two days when we visited St. Vitus Cathedral. Found inside the Prague Castle, this house of God depicts every devotee's passion for the religion- from how it was preserved to its structure maintenance.
To close our trip, we started our day with a grand breakfast at Marina Grosseto Ristorante. For their food menu, Grigliata mista di pesce (grilled fish with veggies and gratin potatoes) was my recommendation.After that, off we went to one of the city's beautiful sights- Charles Bridge. We took the boat and cruised down the river while we enjoyed the 14th century old bridge. We headed to Prague Park to be amazed by the scenic overlooking view of the city's historic structures. Prague, I fell in love with you the moment I stepped foot in your beautiful city. I will definitely be back!