Luxury Travel

Enjoy a worry-free holiday from our wide-range of travel itineraries--be it from Asia-Pacific, Europe, America, or Africa. How does a Mediterranean cruise in summer or a Scandinavian trip in winter sound like? Experience culture first-hand and juander with us..
14N PORT VILLA TO CAIRNS
15 days Silver Discoverer • $10950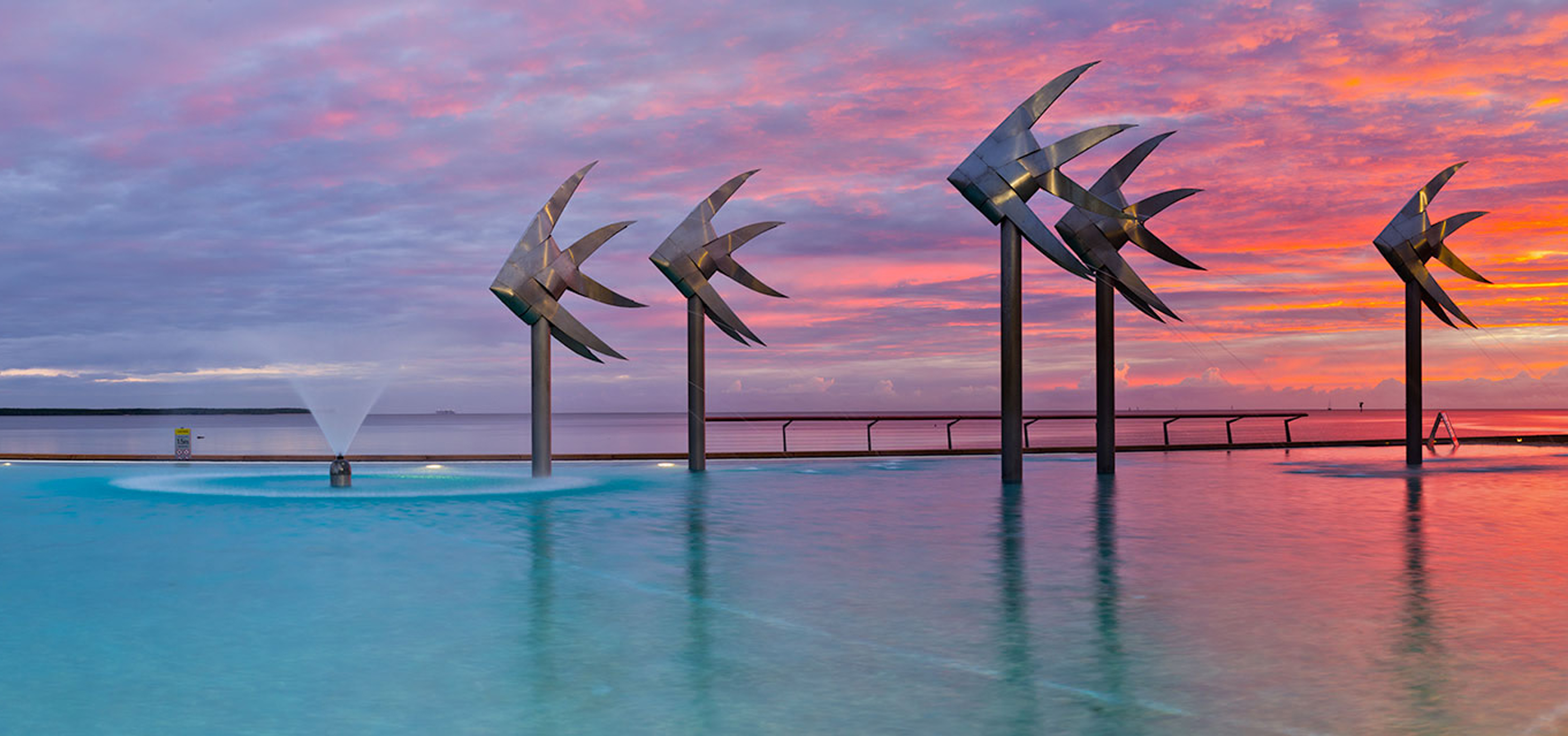 Explore the underwater world of tropical fish, feather stars, nudibranches, vase sponges, Gorgonian fans, octopus, morays and sharks, learn about the John Frum cargo cult, see the active volcano Tavurvur and hike up to the rim of active Mount Yasur on Tanna, discover Mbike Island and marvel at Njari Island and the surrounding waters, enter the Johann Albrecht Harbour, the 5-kilometre-wide flooded caldera of Garove volcano –one of the few calderas in the world a ship can enter, birders will be on the lookout for birds of paradise while hiking to the hot springs and geysers on Fergusson Island, explore the Kwapurina 'Fjord' by local canoe.
Destination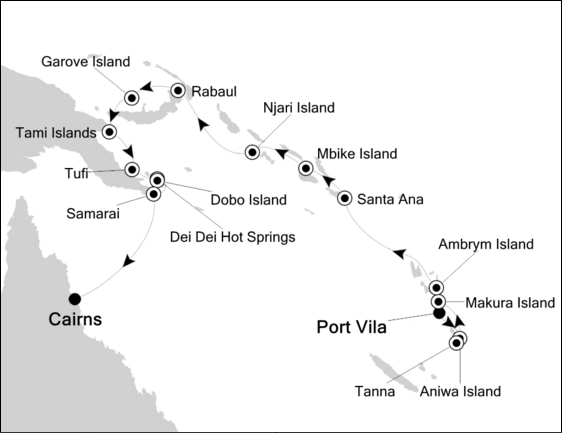 Inclusions
Highly qualified expedition team with experts in their field (marine biologists, ornithologists, historians and more)
Excursions and activities, including explorations by Zodiac®
Complimentary expedition gear: backpack and water bottle on every voyage, Haglöfs parka for polar expeditions
Personalised service with a butler for all suites and the highest crew to guest ratio in the industry
Comfortable amenities with the largest expedition suites at sea
Inclusive room-service, select wines, spirits and soft drinks throughout the ship
Free WIFI throughout the ship
Onboard Gratuities
Itinerary
Day 1 — Port Vila, Vanuatu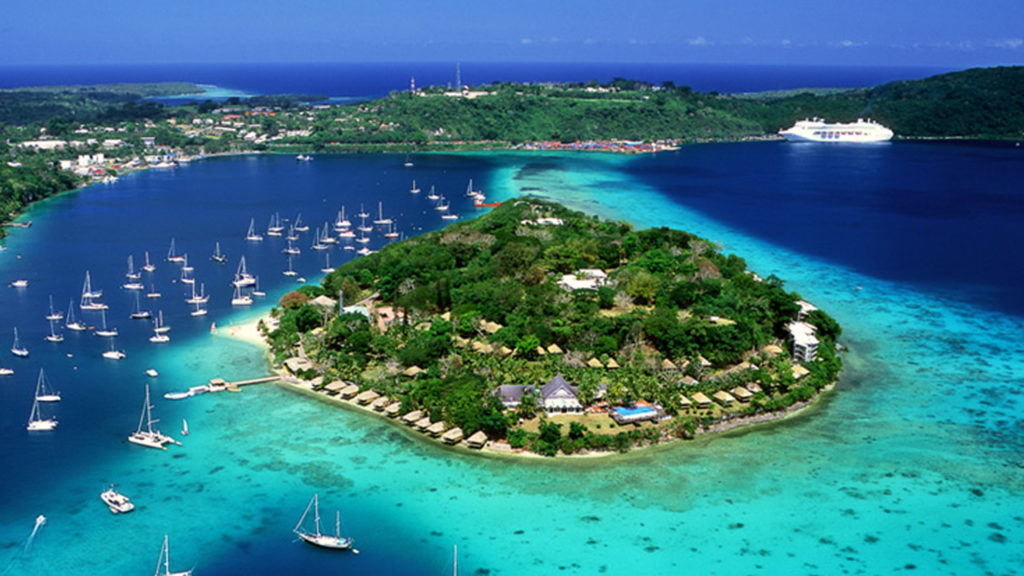 Embark the Silver Discoverer for this stunning Silversea Expedition – Islands of the Coral Sea. This afternoon, you will be introduced to your Expedition Team and attend a safety briefing. Tonight we invite you to familiarise yourself with your new home away from home, meet some of your fellow travellers and enjoy the first of many memorable meals in The Restaurant.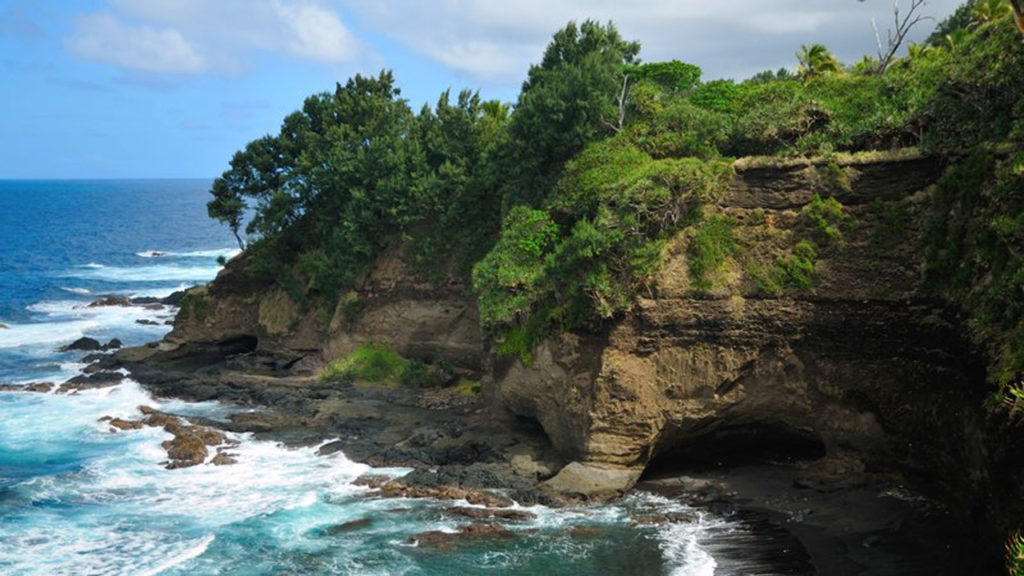 Day 2 — Aniwa and Tanna, Vanuatu

Our first stop of the voyage will be in front of Aniwa. Aniwa is a small uplifted coral platform in the southernmost province of Vanuatu. Here we will want to swim, snorkel and dive over a reef that formed very recently after a volcanic eruption with tongues of lava flowing into the ocean. As soon as your head is touching the water you can see the beauty of the underwater world. This reef is really unique because it is growing on top of a lava flow. You will discover a big variety of corals in countless colours. From Moorish idols to whitetip reef sharks you will also find a great variety of fish. Silver Discoverer will then reposition to Tanna Island, where we will take to the Zodiacs to go ashore in Port Resolution. Our first activity in the afternoon will be a visit of the village and their people. We will be welcomed with a dancing ceremony by both men and women, before we actually get to walk to and through their village. Then the volcano expedition will start. We will get onto Off-Road vehicles and drive through lush forests up to Mount Yasur. Mount Yasur is a very active volcano -its activity was first recorded by Captain James Cook in 1774 and continued uninterrupted since then. The last part is walking up a trail up to the rim of the volcano's crater. It much depends on how active the volcano is as to how far we are allowed to go. As soon as you reach the top you can look into the volcanic crater and hear the rumbling of the volcanic activity. There are two main craters -with volcanic activity in each crater. The first crater on the left side is usually very active; small explosions can normally be observed and fireworks of lava are blown out from below the crater into the sky. The second crater is less active in terms of ejected lava but from time to time pushes out big clouds of fumaroles and ash. As sunset finishes and the darkness progresses the volcanic activity turns into a breathtaking firework. The ejected lava glows in red and orange colours. We will return quite late to Silver Discoverer.
Day 3 — Makura, Vanuatu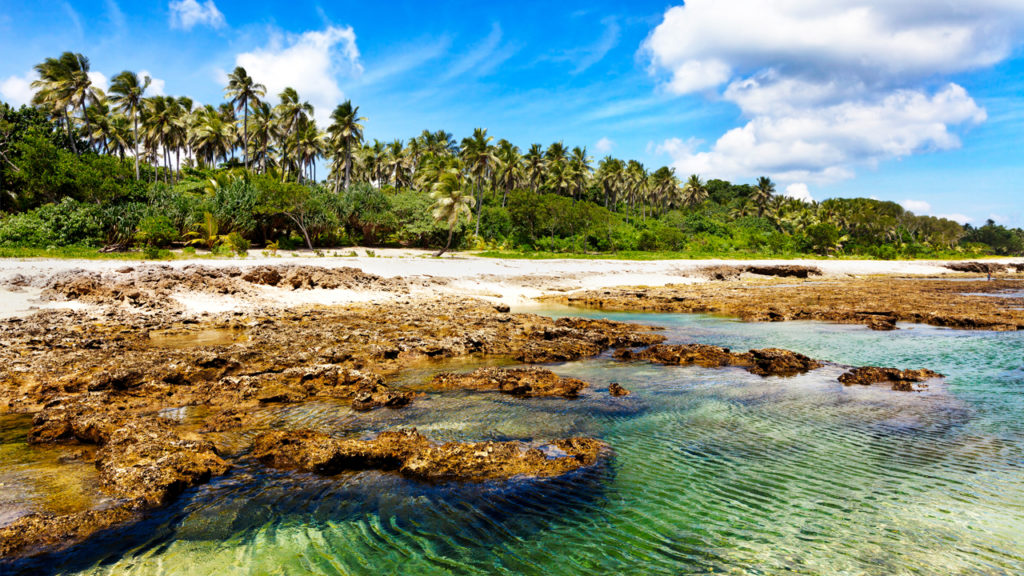 During the morning Silver Discoverer will continue heading north to reach Makura. You can take the morning to recover from last night's late return and sleep in, having a leisurely breakfast. Makura is quite small, but is the peak of an old volcano whose rim remnants are believed to be neighbouring islands Emae and Mataso. There is a small village on the north-western part of the island. This is the only place where there are two sandy beaches. This afternoon we will be looking for sites to snorkel and dive, while hikers might want to climb to the top of the island.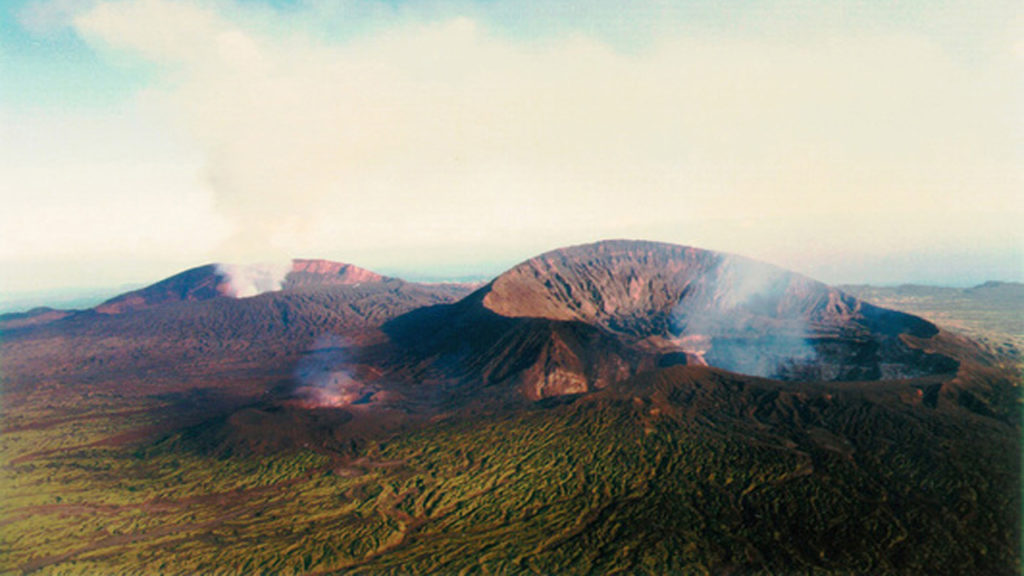 Day 4 — Ambrym, Vanuatu
In the early morning Silver Discoverer will be in front of Ambrym's west coast. Ambrym is a volcanic and active (!) island with dark beaches. Ambrym is known as the island of magic and of the 113 local language of Vanuatu 5 alone are spoken on Ambrym –apart from Bislama, one of the three official languages of the country. We will go ashore near the village of Ranon to have a look at the local community and see the very special Rom dance. Normally these dances are only shown during grade-taking ceremonies or men's secret society meetings and on those occasions the participants actually prepare their masks and costumes in secrecy. Apart from the mesmerising Rom dance we will be entertained by one of the local string bands and hope to see some of Vanuatu's sand drawings. Although some might simply see them as aesthetically pleasing drawings, UNESCO has recognised them as a local "writing" system and inscribed them on the Representative List of Intangible Cultural Heritage of Humanity.
Day 5 — Cruising the Coral Sea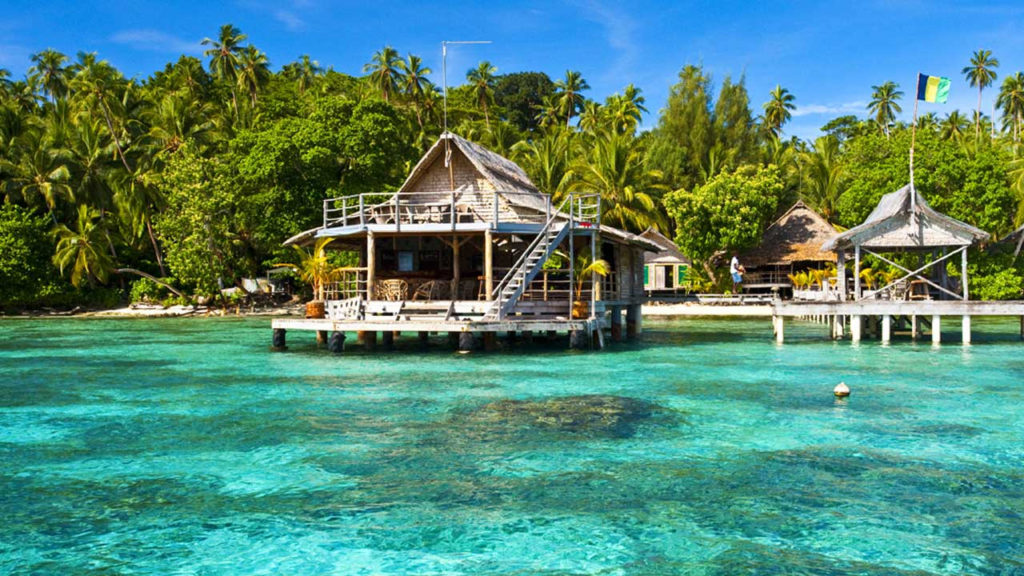 While we cruise through the Coral Sea, use the day at sea to learn more about the Solomon Islands. Enjoy lectures that provide insight into the anthropological work done in this area and hear about Oceanic and early European exploration as well as the more modern history. Take advantage of the luxurious amenities aboard Silver Discoverer and help our birders spot some of the seabirds found far away from their nesting grounds or look for dolphins and other cetaceans known to frequent these waters.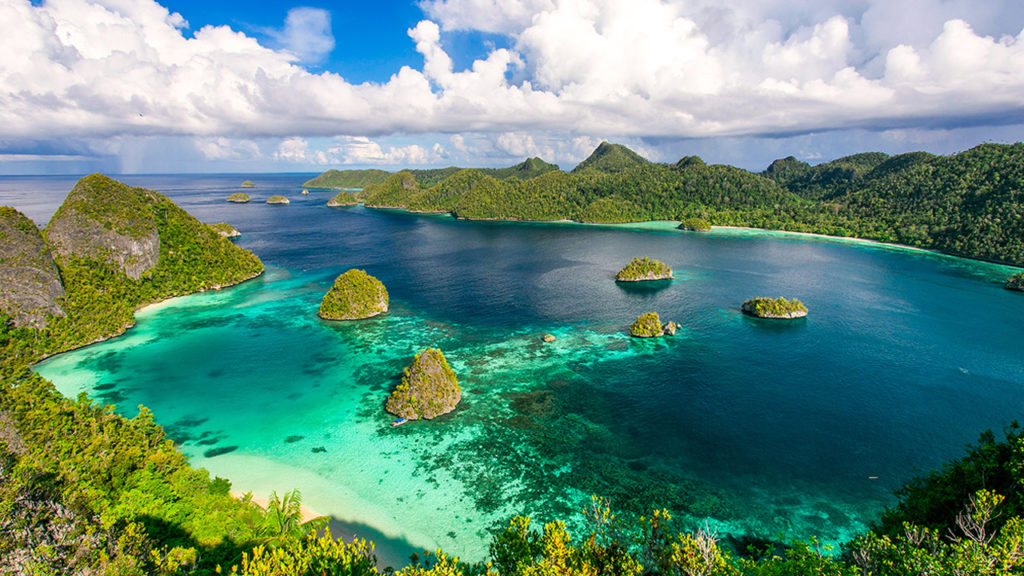 Day 6 — Port Mary, Santa Ana, Solomon Islands

Today Silver Discoverer will enter Port Mary, the bay in front of Ghupuna, Santa Ana's main village. We will have a short Zodiac ride onto a beautiful white sand beach with huge shade-giving trees. Once ashore you will notice the very tidy village with its houses made of local materials built on stilts. After a short welcome on the beach we will head to the sports ground where we will be entertained by traditional songs and dances by members of the three different villages on Santa Ana (Owaraha in the local language). Islanders will have set up several stands with souvenirs, ranging from traditional shell money to fishing floats and different carvings based on local stories and legends. For those interested in a hike, the local school, located at the centre of the island, can easily be reached. For those interested in a swim, snorkelling or diving, the late morning and early afternoon will give you time to enjoy the waters in front of Ghupuna. In the afternoon Silver Discoverer will continue eastward. Let our lecturers introduce you to our next destination.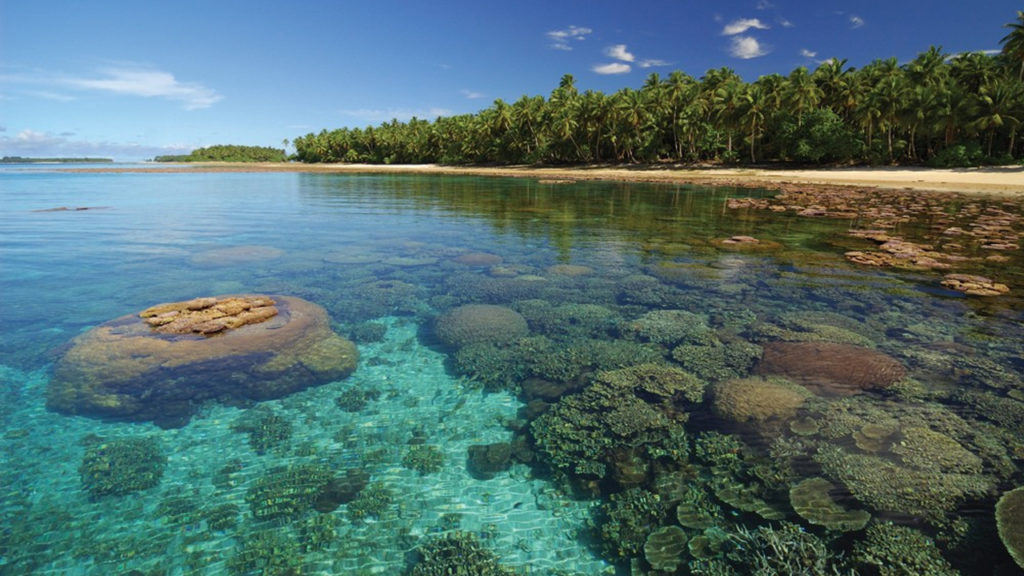 Day 7 — Mbike Island and Roderick Bay, Solomon Islands

Be out on deck in the morning as we approach the Sandfly Passage to reach Mbike, a small privately-owned island between Mbokonimbeti Island and Nggela Sule (in the Florida Islands). Once we reach Mbike you will see that huge trees give shade and a picture-perfect little beach will invite you to swim and snorkel, while the extensive coral reef ecosystems, teeming tropical fish and exceptional dive sites beckon our divers as well. The snorkelling might show feather stars and colourful nudibranches, vase sponges and gorgonian fans, lionfish and octopus -all part of this truly remarkable marine environment. If you would like to find out what other parts of the Florida Islands have to offer, join us on a Zodiac snorkel safari into nearby Roderick Bay. During the afternoon Silver Discoverer will continue westward to reach the Solomon Islands' Western Province.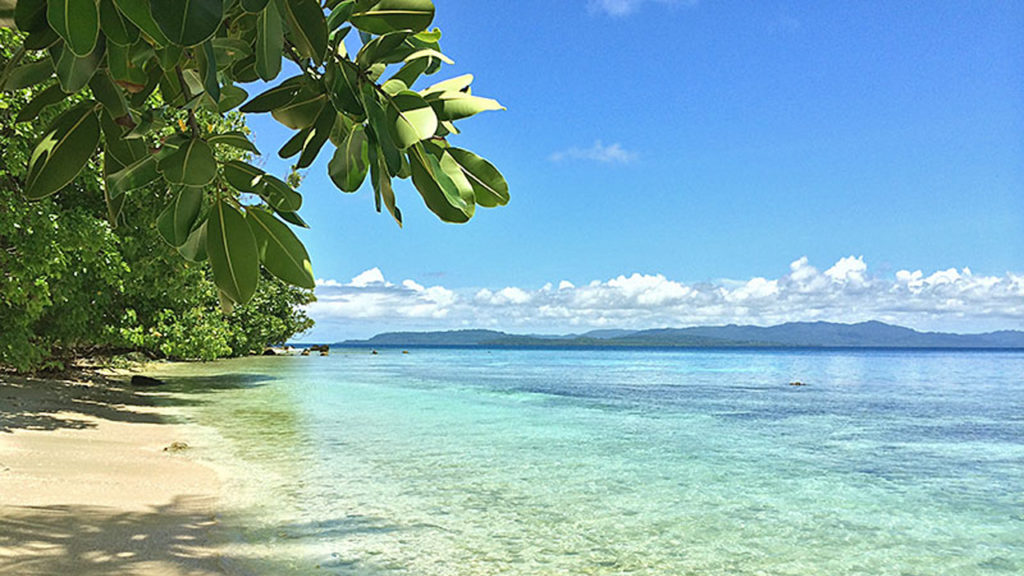 Day 8 — Njari Island, Solomon Islands

Gizo is the hub around which the Western Province revolves and we will head for the area north of Gizo, to be able to enjoy Njari Island and its fascinating underwater world. Njari has one of the highest counts of fish and coral varieties in the Indo-Pacific –and we will snorkel and dive to make the most of this small hidden gem Playful dolphins sometimes accompany Zodiac on their way between the ship and the snorkelling area After our morning exploration of Njari we will clear out of the Solomon Islands and head for Papua New Guinea.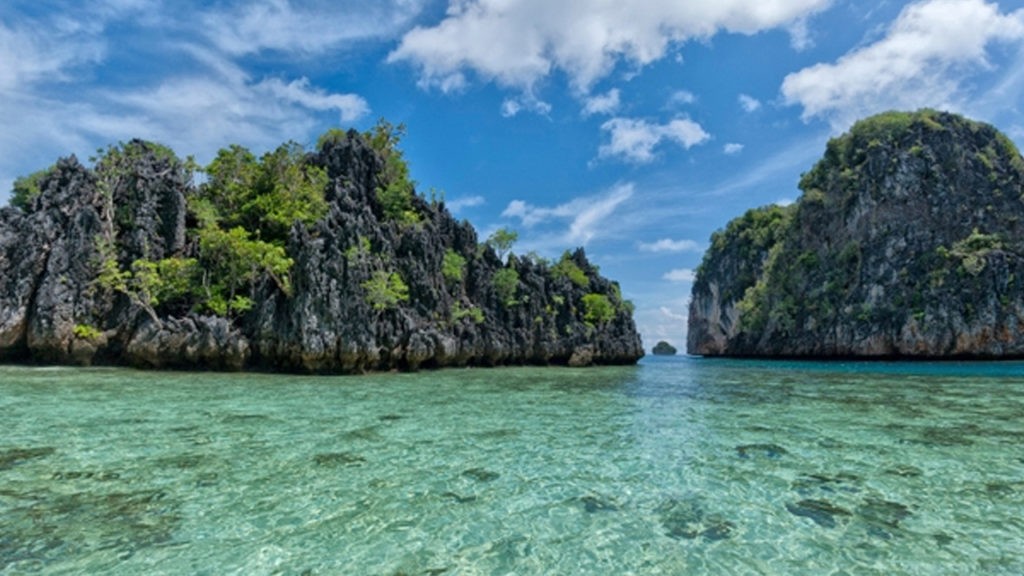 Day 9 — Cruising the Coral Sea en route to Rabaul, Papua New Guinea
Crossing the Coral Sea to reach New Britain our lecturers will offer a variety of topics. The Galley Team might want to tempt you with a cooking demonstration. When not attending a lecture or seminar, relax at the pool, make use of the Gym or Spa and enjoy the culinary highlights the Executive Chef has prepared for you. In the afternoon Silver Discoverer will enter Blanche Bay and will pass the active volcano Tavurvur and several other prominent geological features. We will clear into Papua New Guinea and will continue our voyage along the northern coast of New Britain shortly before midnight.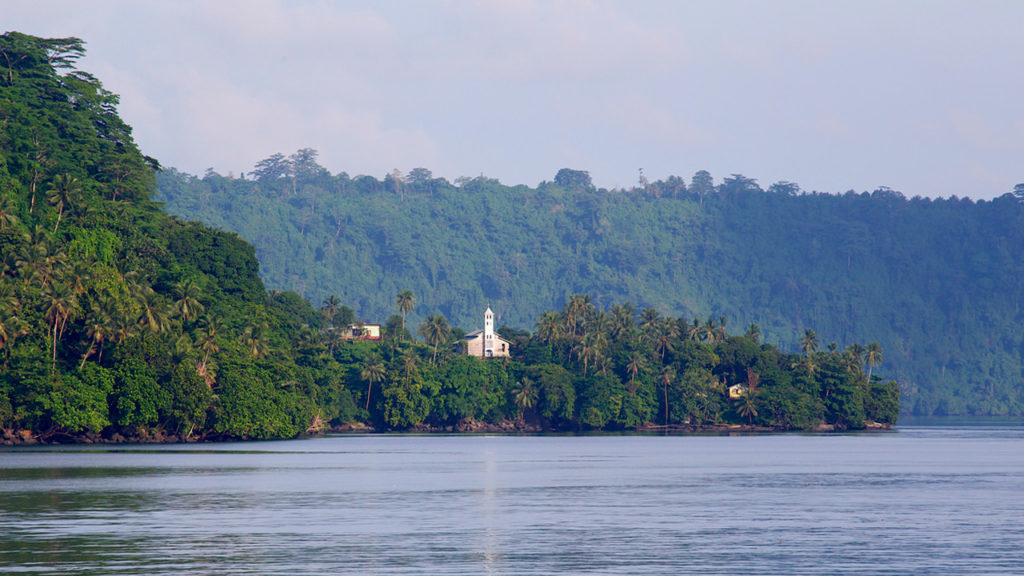 Day 10 — Garove Island, Papua New Guinea

Garove is part of the Witu Islands and once had a 5-kilometre-wide caldera. The island was and is used to produce copra and most of the villages are located around the exterior of the volcano. We will want to enter the flooded caldera through its narrow entrance. Steep cliffs explain why there is only one area settled on the inside. Going ashore near a little promontory we will be greeted by singing and lead to the open ground in front of the school and church for some traditional dances. Hikers might want to reach the higher levels of the village. If you want to swim at the small beach close to the landing site you will be outnumbered by the local kids enjoying the water. Around sunset Silver Discoverer will leave the caldera and continue west-south-westward.
 Day 11 — Tami Island, Papua New Guinea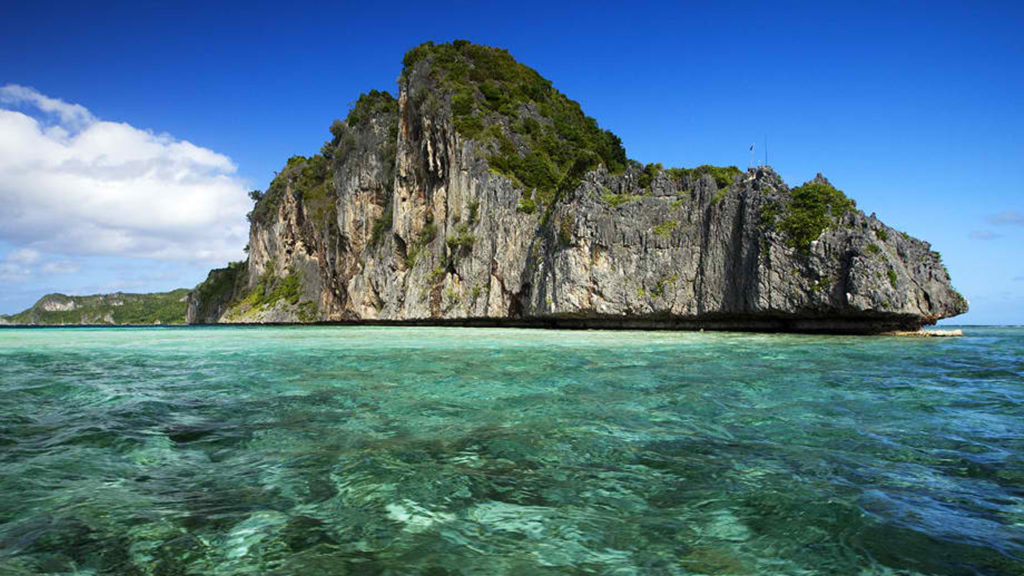 The Tami Islands are a small archipelago (just four islands) located South of Finschhafen in the Huon Gulf. Collectively, they are part of today's Morobe Province. The main island is eponymously named and is one of just two islands in the enclave to be inhabited. The people here are known for their elaborately carved, oblong-shaped "Tami bowls." The small community of islanders lives simply. Tami has just a single primary school and a small medical aid post.  The "sing-sing" here is loud and punctuated by the beating of 'kundus', hand-held hollowed wooden drums with monitor lizard skin at one end. Beaches and reefs should provide a good starting point for swimming, snorkelling and diving.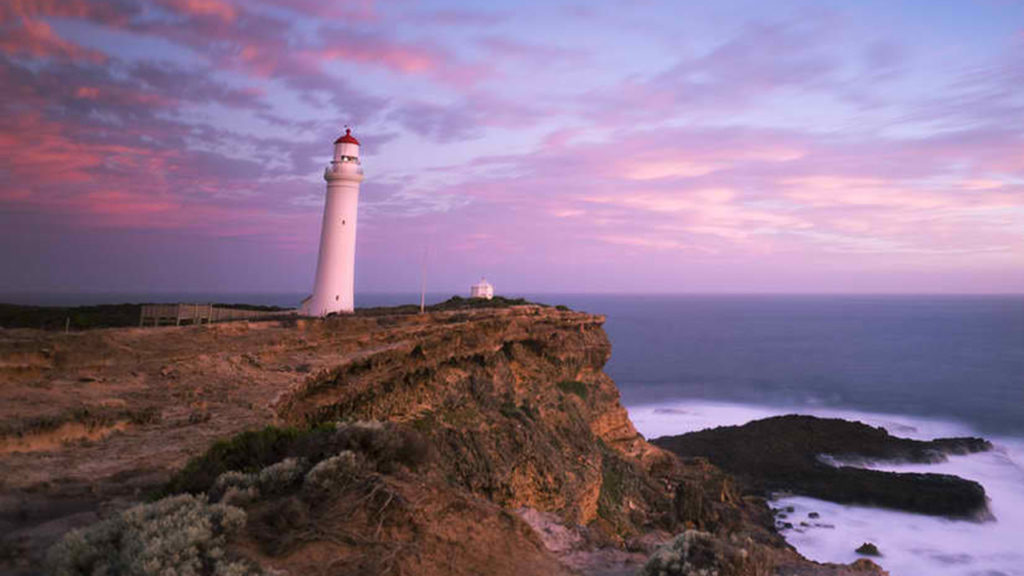 Day 12 — Kafure Village, Tufi, Papua New Guinea
Tufi, located on the south-eastern peninsula of Cape Nelson, in Oro Province, is situated on a tropical fjord (the work of ancient volcanic activities) and surrounded by uncharted coral reefs. During traditional ceremonies natives wear tapa cloth, which is made from the bark of mulberry trees found in the local forest. Dance figures predominantly in the culture, with performers using tapa cloth and sporting headdresses decked with bird of paradise plumes and other colourful feathers. Upon arrival, we will canoe along the smooth waters of the Kwapurina Fjord. With local villagers as our oarsmen, we will be guided under canopies of ancient mangrove forests, which are home to Tufi's wide range of colourful birds and butterflies. Continuing on our journey, we return to the entrance of the fjord and the small settlement where the villagers will welcome us with traditional dance and song. There will also be an opportunity to observe the making of tapa cloth and to make souvenir purchases. During the afternoon we will enjoy one of the local beaches nearby to relax, swim, snorkel and dive.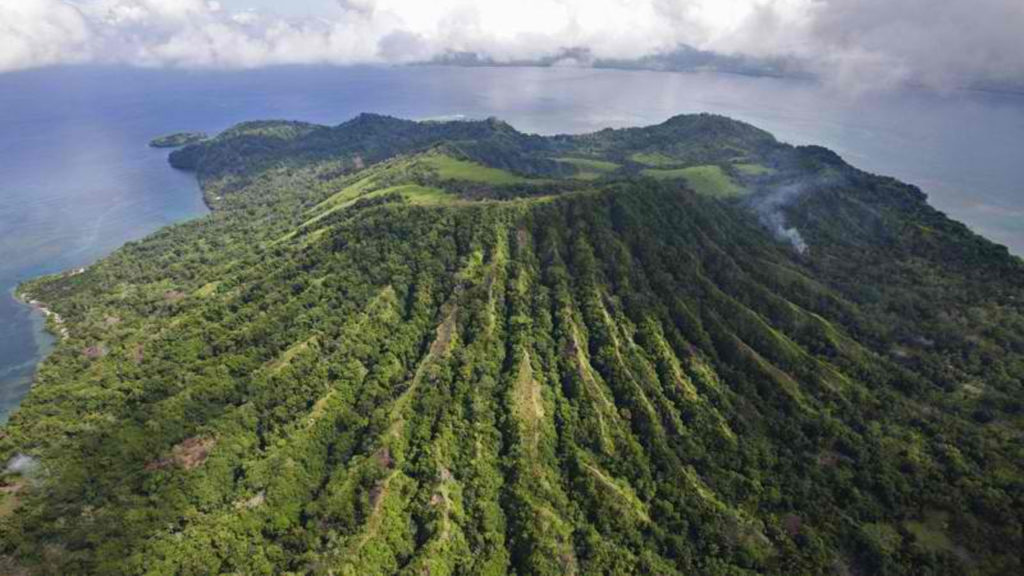 Day 13 — Fergusson Island and Dobu Island, Papua New Guinea

Fergusson is one of the three biggest and mountainous islands in the Milne Bay Province. The other two are Normanby and Goodenough islands. Together, they form the D'Entrecasteaux Islands, which are famous for the Dei Dei geysers—natural hot springs that periodically "erupt" with vapour steam. The proud villagers will welcome us and accompany us to the hot springs, where they will tell ancestral tales and legends about this natural display of power. In the afternoon, we will also visit Dobu Island, which is one of the smaller islands of the D'Entrecasteaux archipelago. Although small in size, the island played and plays an important role in the Kula Ring. If we go ashore, we will hopefully get to see some of the objects used in the Kula trade. Neighbouring islands feared the Dobu Islanders because they were believed to be great sorcerers. Birdwatchers are in for a treat whilst visiting the D'Entrecasteaux Islands. Look out for Sulphur-crested Cockatoos, parrots and eagles and—if we are very lucky—we may even spot a bird of paradise (or two!). Diving and snorkelling is tide/current dependent, butwith crystal clear water and the visibility of some 30 metres or more. The coral gardens are extremely healthy with a huge diversity of both hard and soft corals. The seabed normally is littered with many different species of echinoderms, including the blue Linckia sea star, feather stars, sea cucumbers, and the odd crown of thorns starfish conspicuously positioned in a crevice of the reef. Myriads of small damsels, chromis and other reef fish swarm over corals, and some larger fish lurk in the deeper water on the edge of the reef, including a whitetip reef shark.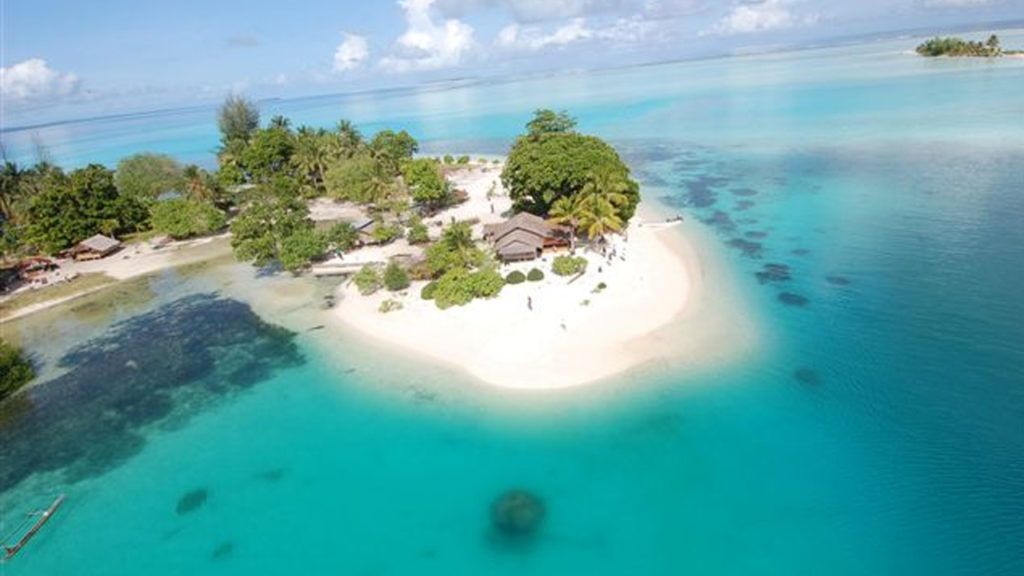 Day 14 — Samarai Island, Papua New Guinea

Samarai once was one of the most important towns, ports and trading centres of British New Guinea. Today Port Moresby and Alotau have taken over from this little island. Because of the Japanese advance during World War II the Australian Forces evacuated the island and the Allied Forces then destroyed most of it to prevent the Japanese from using it. In 2006 the island was declared a National Historical Heritage Island, and it is hoped to restore some of the buildings and structures to their former glory. Coming into the jetty on Samarai by Zodiac might be slightly surreal: it will be one the most modernised community we will come across throughout this voyage. Many people come from neighbouring islands for the Saturday market (our visit will be on a Tuesday). It is quite surprising to see how many solidly constructed houses are found on this tiny island and how densely populated Samarai is while the surrounding islands seem to consist just of lush tropical forests. The final shopping opportunity in the Samarai market will be quite exceptional. The dark, heavy wooden carvings are ornate and inlaid with shells and mother of pearl. Just make sure that what you buy is allowed to enter Australia! This evening our Captain will want to invite you to the Captain's Farewell cocktail and the Executive Chef and Restaurant Manager will invite you to the Farewell Dinner.
 Day 15 — Cruising the Coral Sea 
This leisurely day at sea will take us across the aptly named Coral Sea. Begin with a stroll around the outer decks looking for dolphins or other cetaceans, have a late breakfast and attend one of the day's lectures to hear fascinating tales of Oceanic exploration and to learn more about the connections and differences with life in Australia. Our knowledgeable Lecture Staff members will recap the different impressions of our voyage. Our on-board Photographer/Videographer will present his/her Voyage-DVD, showing all the interesting encounters with Melanesian cultures, customs and events, as well as the wildlife seen above and below the surface of the Coral Sea.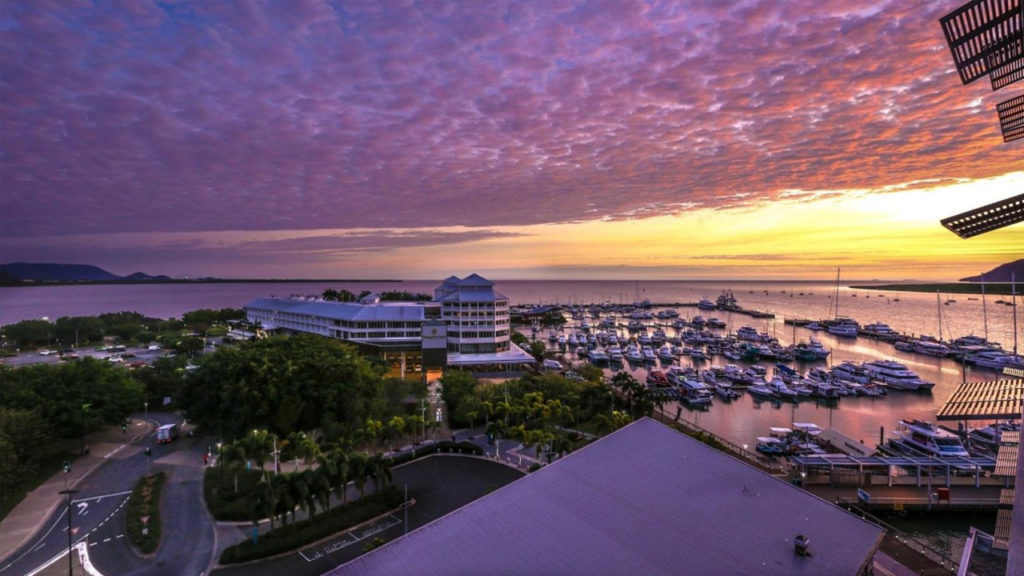 Day 16 — Cairns, Australia

Following breakfast, disembark Silver Discoverer.
Expedition highlights and wildlife listed here are possible experiences only and cannot be guaranteed. Your Expedition Leader and Captain will work together to ensure opportunities for adventure and exploration are the best possible, taking into account the prevailing weather and wildlife activity. Expedition Team members scheduled for this voyage are subject to change or cancellation.
Transportation
Airfare & airport transfers are not included in the cruise cost. The transfers from airport to seaport can be arranged for extra cost.
Policies
Privacy Policy
Use of Information
We only collect information that consists of name, contact number, email address, residential address, and passport details. Rest assured that all these details are privately kept by World Juanderer for one-time purpose only, if and only if you avail services once, and not transferrable to any other client or business.
Other Information
We reserve the right to use or disclose any information as needed to satisfy any law, regulation or legal request, to protect the integrity of the site, to fulfill your requests, or to cooperate in any legal investigation.
Questions
If you would like us to update your information or cancel your subscription, or have questions about our privacy policy, please contact us at +63 917 772 6273 or email us at [email protected]. You may also visit our office at 20F Wynsum Corporate Plaza, F. Ortigas Jr. Road, Ortigas Center, Pasig City.
TERMS AND CONDITIONS
YOUR HOLIDAY RESERVATION
On receipt of your deposit, subject to availability and at our discretion, World Juanderer will reserve your place on your selected holiday. A contract is only made between you and us upon your booking being confirmed and accepted by us.
PRICE 
Prices are subject to change without prior notice. Each package tour and its add-ons are subject to change based on the tour operators and number or participants in the tour.
IF WE CANCEL OR CHANGE YOUR HOLIDAY
3.1 World Juanderer reserves the right to change or cancel your booking in accordance with operating requirements or circumstances beyond its control.
3.2 If an alternative is not available or acceptable, you will be entitled to either a full refund of monies paid by you to us or transfer to another World Juanderer holiday without payment of any transfer fee.
3.4 If the change or cancellation is due to force majeure (i.e. circumstances like political unrest, war or threat of war, riots, bad weather conditions etc.), we will give a full refund of any monies paid to us less reasonable expenses incurred by us in respect of your booking.
3.5 World Juanderer is not responsible for the costs of any other travel arrangements affected due to our cancellations or rescheduling of any trip departure.
HOLIDAY DETAILS AND CONDITIONS
4.1 With our personal experience in traveling and joining these tour packages, World Juanderer will do our best, at our discretion, to select accommodation, sightseeing trips, and transportation to give you good value for money.
4.2 World Juanderer constantly strives to improve trip itineraries and features. If such improvements can be made, or unforeseen circumstances beyond our control make changes necessary, we reserve the right to vary itineraries and to substitute hotels. World Juanderer is not responsible for any other travel arrangements affected due to our cancellations.
LIABILITY
5.1 We will be entitled to keep for each account any interest earned on such monies.
5.3 All monies paid by you to us, whether in respect of the deposit or full payment, may be disbursed by us as and when we see fit, in respect of the services to be provided and/or fees payable under your selected holiday. The payment of a deposit or any other monies in respect of your holiday shall be deemed to be an authorization to disburse thereof as aforesaid.
BOOKING YOUR TRAVEL
1.1 In order to reserve your holiday, you must inquire and get in touch with the Travel Specialist to check the preferred travel package. World Juanderer accepts the deposit as a first installment of the holiday price only once World Juanderer has confirmed the booking in writing.
1.2 Deposit and final payment will be converted to the local currency (if payment is non-Philippines Peso) at point of booking. Conversion is based on the prevailing exchange rate at time of full/balance payment and what is released by the Bangko Sentral ng Pilipinas.
1.3 World Juanderer cannot guarantee special add-on requests nor will it assume any responsibility or liability if clients' special requirements are not fulfilled.
PAYMENT
2.1 If payment isn't made by the due date, World Juanderer may assume that you have cancelled and World Juanderer will levy cancellation charges in accordance with clause 3 below.
2.2 Tickets and other documents will not be forwarded until we have received full payment.
2.3 In the case of Late Bookings made within 45 days of your departure from your home country, the full cost of the holiday will be payable immediately on booking and we reserve the right to provide all travel documents at the holiday departure point.