Luxury Travel

Enjoy a worry-free holiday from our wide-range of travel itineraries--be it from Asia-Pacific, Europe, America, or Africa. How does a Mediterranean cruise in summer or a Scandinavian trip in winter sound like? Experience culture first-hand and juander with us..
18N OTARU TO OTARU
19 days Silver Discoverer • $14950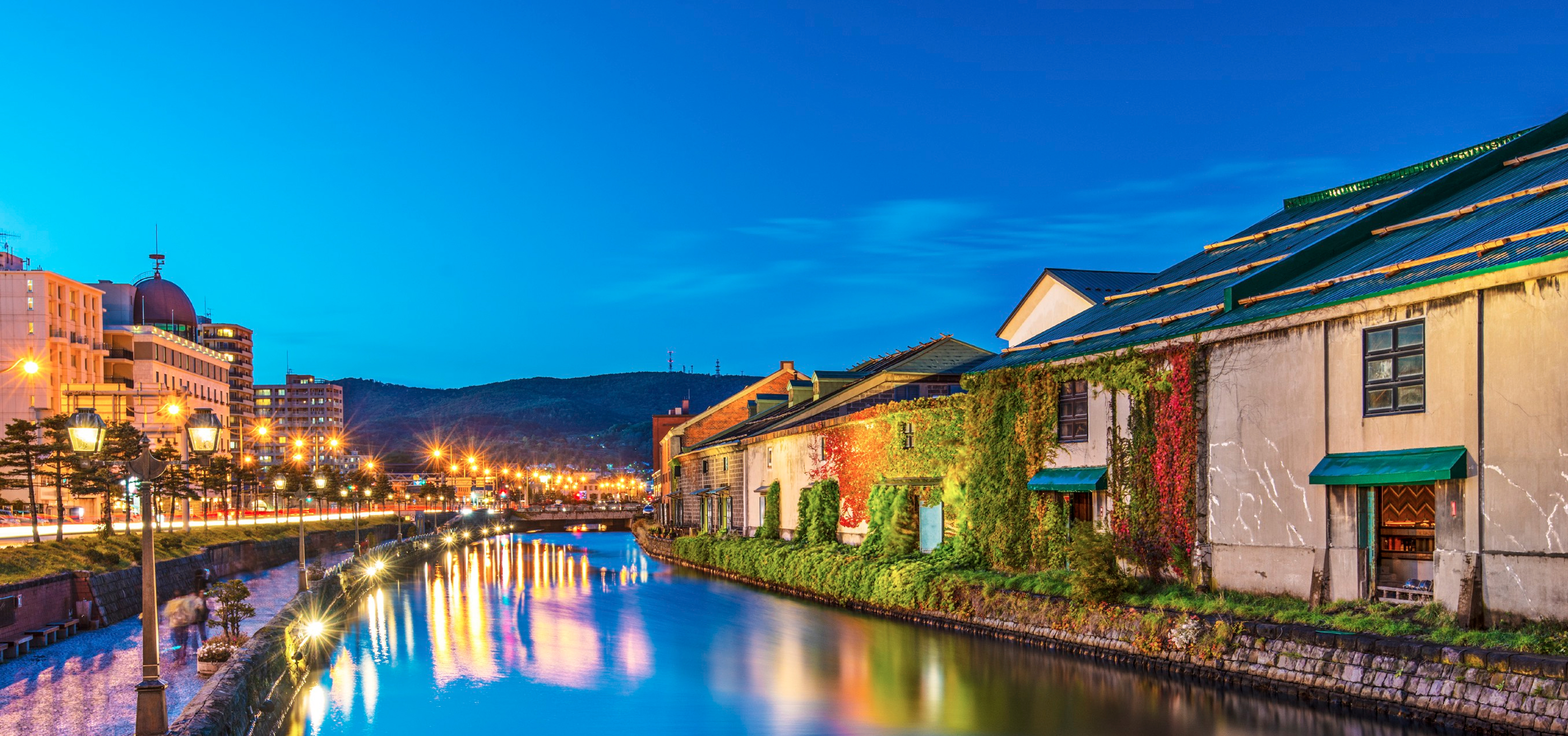 On our voyage from Japan to the Sea of Okhotsk we will visit an area rife in history –Vitus Bering and other explorers started from here towards Alaska- and extremely rich in wildlife. The Sea of Okhotsk is probably one of the least visited areas in the rarely visited Russian Far East, but will offer marvellous opportunities for wildlife observation. With Okhotsk we visit a small town linked to Vitus Bering, with Petropavlovsk-Kamchatskiy we visit the cultural and political centre of Kamchatka, before heading south through the Kuril Islands, a geothermal wonderland of volcanoes and hot springs. During our voyage we will look out for whales, seals and huge populations of migratory seabirds. Sailing in the month of August and September, we will take advantage of the mid-summer sun. This is one of the world's great journeys, an expedition that beckons nature and history lovers, and those intrepid explorers who want to go where few others have gone.
Destination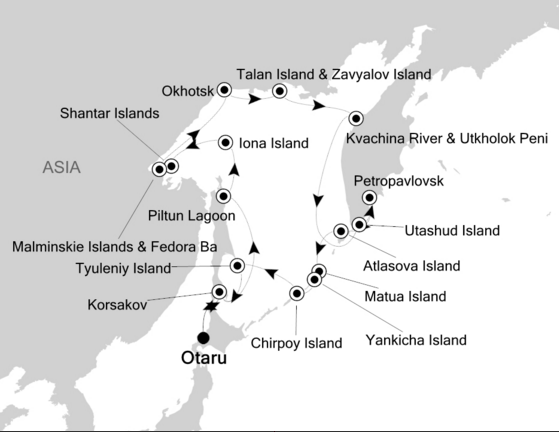 Inclusions
Highly qualified expedition team with experts in their field (marine biologists, ornithologists, historians and more)
Excursions and activities, including explorations by Zodiac®
Complimentary expedition gear: backpack and water bottle on every voyage, Haglöfs parka for polar expeditions
Personalised service with a butler for all suites and the highest crew to guest ratio in the industry
Comfortable amenities with the largest expedition suites at sea
Inclusive room-service, select wines, spirits and soft drinks throughout the ship
Free WIFI throughout the ship
Onboard Gratuities
Itinerary
Expedition Highlights:
–       Marvel at spectacular natural landscapes, pristine tundra and massive volcanoes.
–       Travel along the historic routes of explorers and traders.
–       Be on the lookout for rare wildlife including the western grey whale and Steller sea lion and ribbon seal.
–       Identify countless birds: puffins, guillemots, cormorants, Steller's Sea Eagle, Brown-headed Thrush, Siberian Ruby-
throats, Black-legged Kittiwakes, and Crested or Whiskered Auklets.
–       Photograph a variety of wildlife including brown bears, fur seals, sea otters, and Arctic foxes.
–       Cruise and explore by Zodiac, watching for whales, seals and sea otters at play in the surrounding waters.
Day 1 — Otaru, Japan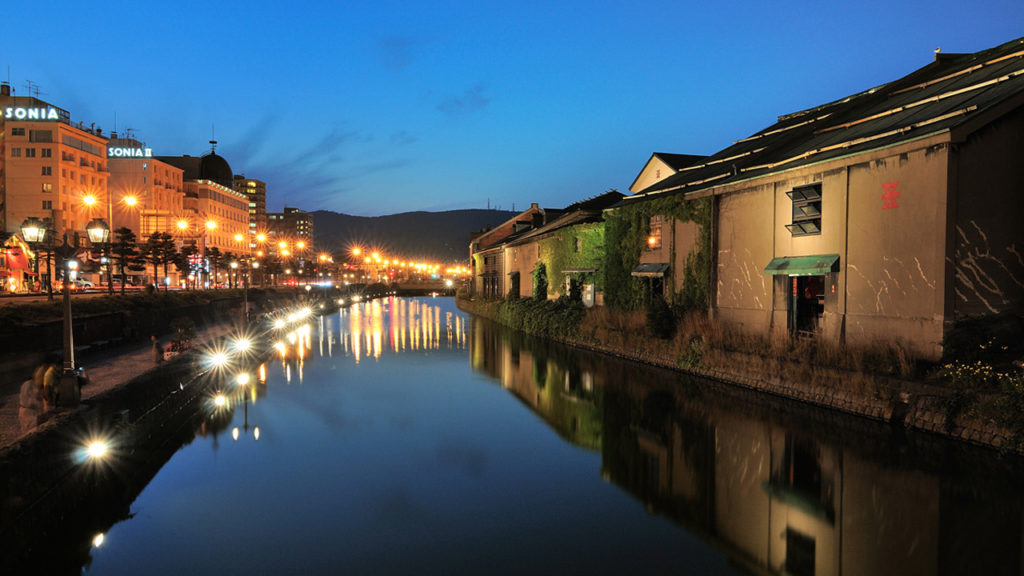 As soon as all guests have embarked, we depart on our spectacular 18-day "Sea of Okhotsk" expedition. This afternoon you will be introduced to your Expedition Team and participate in the safety drill. Tonight we invite you to familiarise yourself with your new home away from home, meet some of your fellow travellers and enjoy the first of many memorable meals in The Restaurant.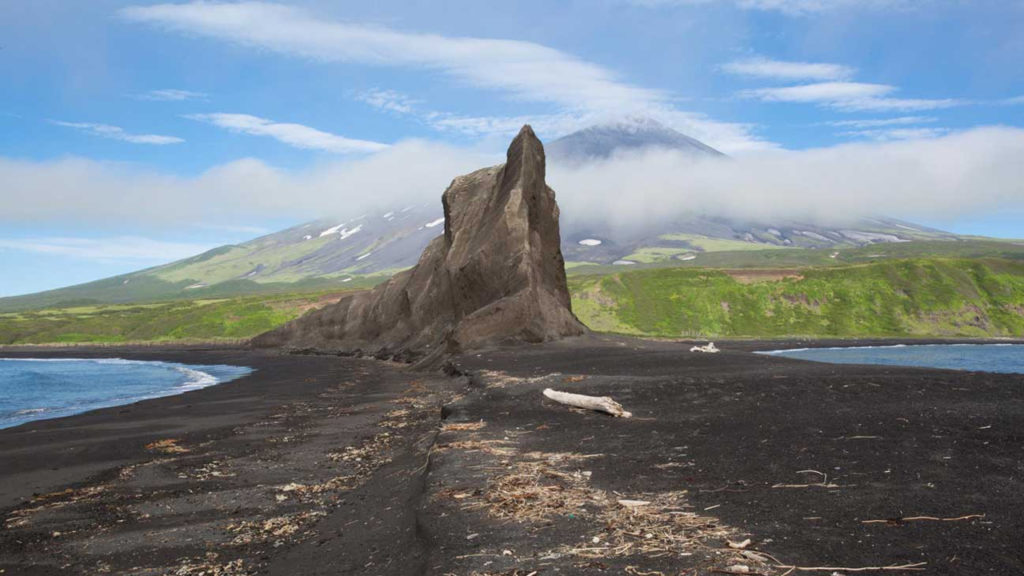 Day 2 — Korsakov, Sakhalin Island, Russia

In the morning we will have several briefings and perhaps a lecture preparing you for Sakhalin Island. Around noon we clear into Russia. Once the formalities are concluded you will be welcomed with the traditional bread, salt and local fruit alcohol. During the afternoon we will explore part of this city founded in 1853 as Sakhalin's first Russian military post and from Korsakov we will drive to Yuzhno-Sakhalinsk, the capital of the island with a population of just over 160,000. Founded as a small Russian settlement in the 1880s, the city became a Japanese prefect capital when the southern half of Sakhalin was declared a Japanese colony in 1905; after WWII it was returned to Russia. Highlights include a visit to the modern Russian Orthodox Church built in the traditional style without using nails. This lovely light-brown wooden building is elaborately decorated inside with metal panels and painted wooden icons. The Natural History Museum has very varied exhibits ranging from Kamchatka brown bears (stuffed!) to military relics of the many wars fought in the region. There are also beautiful examples of pottery and clothing from the indigenous Ainu people including a coat made entirely of fish skins. The museum is housed in a beautiful Japanese-built mansion with lovely fountains in the forecourt. To see part of everyday-life we will have a look at the bustling market.At the Community Hall we will see an excellent and colourful cultural presentation by a local Cossack music and dance troupe. The variety of modern and traditional songs and dances is quite entertaining and some onlookers will even have the opportunity of joining in the dancing. Tonight the Captain will invite you to his Captain's Welcome cocktail party, followed by the Welcome Dinner.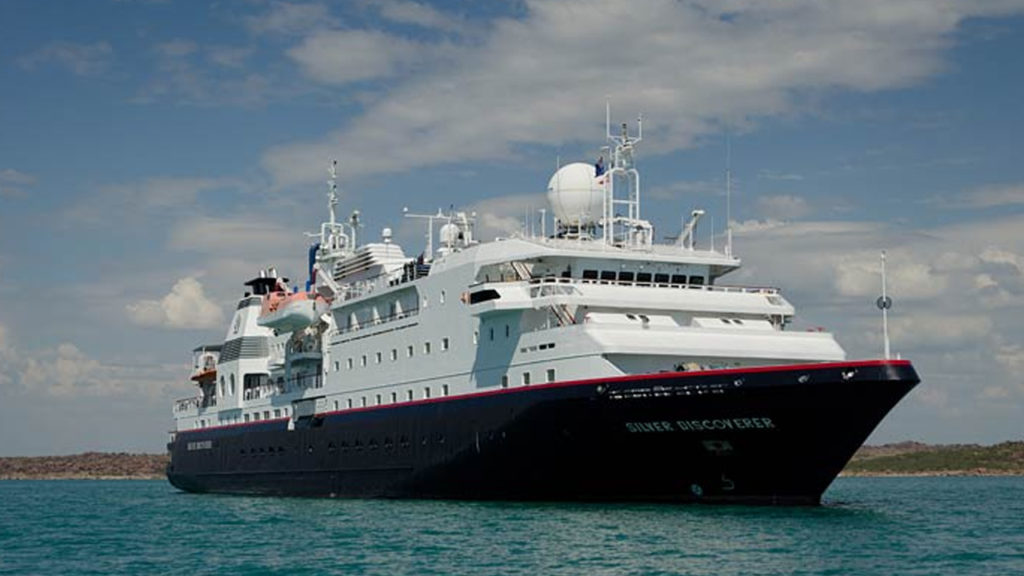 Day 3 — Cruising the Sea of Okhotsk,                                         Russia

Today you will have the opportunity to sleep in, take your time to check for wildlife from the outer decks, attend one of the informative lectures our Expedition Team members will give, and sample same of the culinary specialties the Galley Team has prepared for you. The Executive Chef might want to show what he/she has been able to obtain in Korsakov and explain the special recipe used for its preparation. During teatime attend a Team Trivia, testing your (natural) history skills while tasting tea. In the evening the Expedition Leader will present the plan(s) for tomorrow.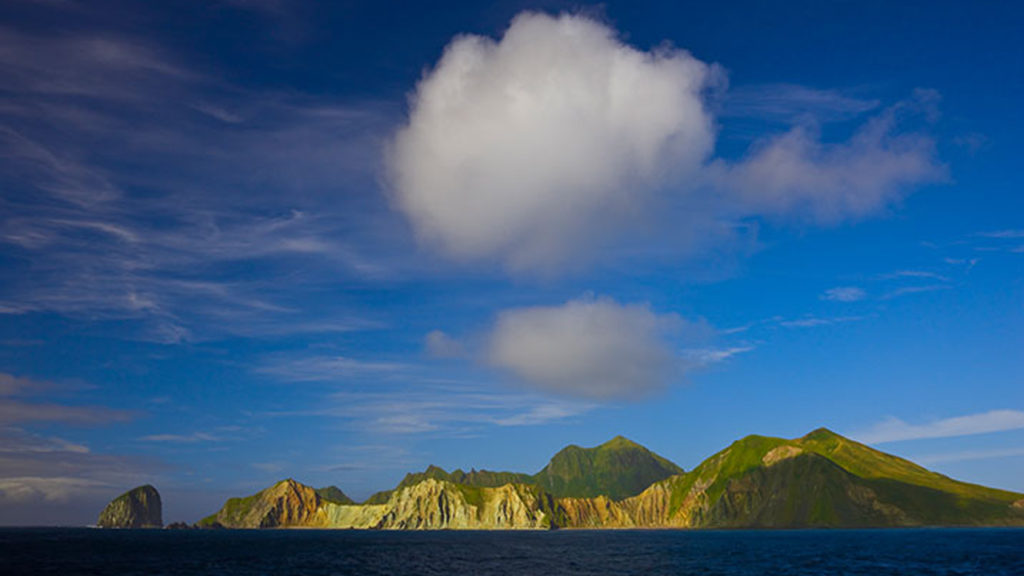 Day 4 — Piltun Lagoon, Sakhalin Island, Russia

During the morning our lecture staff will present interesting talks about Sakhalin's nature, getting you ready for the Zodiac cruise and landing this afternoon. During lunch Silver Discoverer will approach the anchorage –which is quite some distance from the shore because of shallow waters. On the north-eastern shore of Sakhalin, the waters in front of Piltun Lagoon are known to have a grey whale population, members of which can usually be seen while approaching the river mouth by Zodiac. After lunch we will take to the Zodiacs with the intention to land near a lighthouse, looking for Steller Sea Eagles and Aleutian Terns. After a wet landing we will survey the area, the birders heading for Siberian stone pine looking for Pine Grosbeak, Siberian Rubythroat and Dusky Warblers, while others might want to climb to the top of the lighthouse for a panoramic view of the bay.
Day 5 — Iony Island, Russia
During the morning Silver Discoverer will still be heading north, en route to Iony (or Jonas) Island. This small and isolated island in the Sea of Okhotsk is home to a Steller sea lion colony, but great numbers of Northern Fulmars and Brünnich's Guillemots will be the first sign of the island. If conditions permit, we will circumnavigate the island by Zodiac. While the sea lions are taking up every single space imaginable close to the water, guillemots and kittiwakes will circle the cliffs by the thousands. Another highlight for the birders will be the Whiskered, Least and Parakeet Auklets in the air and floating as rafts in the water.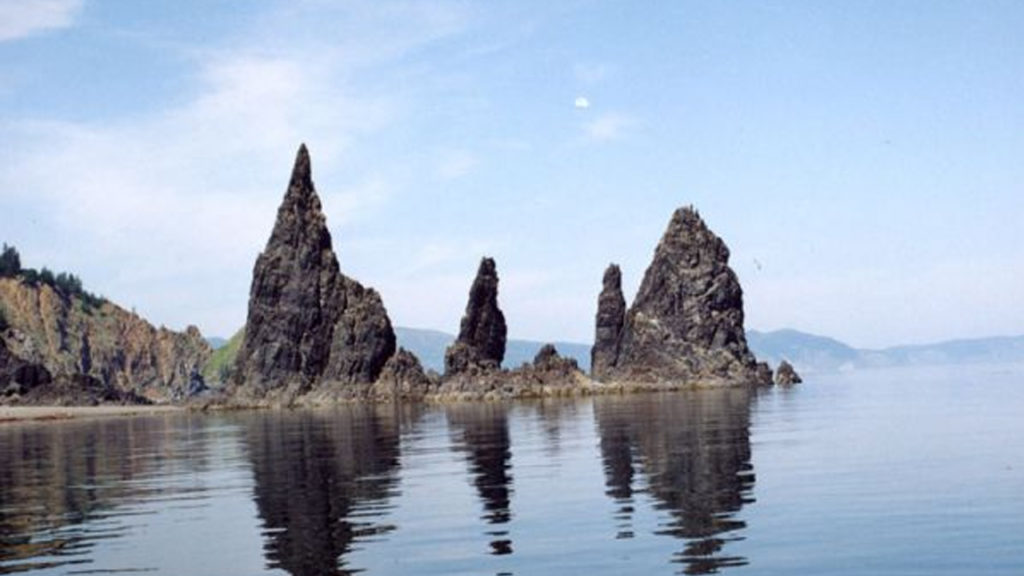 Day 6 — Shantar Islands, Russia

The Shantar Islands are in the westernmost part of the Sea of Okhotsk. As we approach we might see some Minke whales and orcas, but most of all we expect to see several species of seals, including bearded, ringed, Largha and ribbon seals. Depending on the wind and sea conditions we intend a landing where we can hike through beautiful larch and spruce forests, always on the lookout for bears, but mainly in search of nesting Steller's Sea Eagles.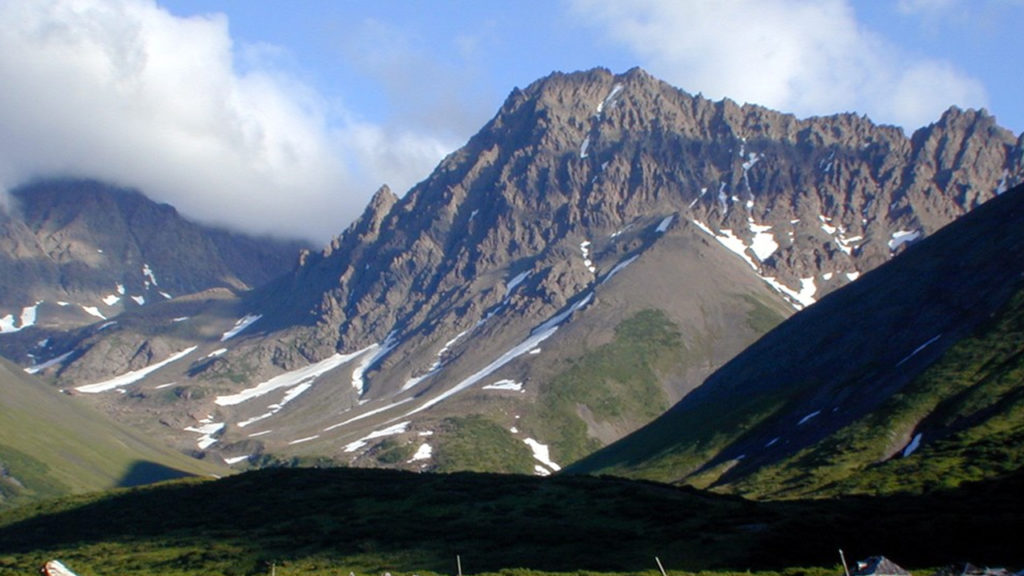 Day 7 — Malminskiy Islands and Fedora Bay, Russia

North of the Shantar Islands are the tiny Malminskiy Islands. We will take to the Zodiacs to cruise along the shoreline of the island, islets and rocks. As part of the Dzhugdzursky Zapovednik Federal Reserve the islands are protected and you can see that birds just love these rocks and islands. Horned and Tufted Puffins, Ancient Murrelets, Rhinoceros Auklet, Parakeet Auklets, Crested Auklets, as well as Common, Brünnich's and Spectacled Guillemots can be seen. Steller's Sea Eagles can be found on the islands and on the nearby mainland. In the water and on the islands harbour seals will represent the marine mammals. During lunch Silver Discoverer will continue the voyage north and try to reach Fedora Bay. Depending on conditions we might explore ashore in Fedora Bay. During much of the year it is iced in, but there is a small ranger station and we might get to hike along the local river and through dense birch and larch forest to a viewpoint.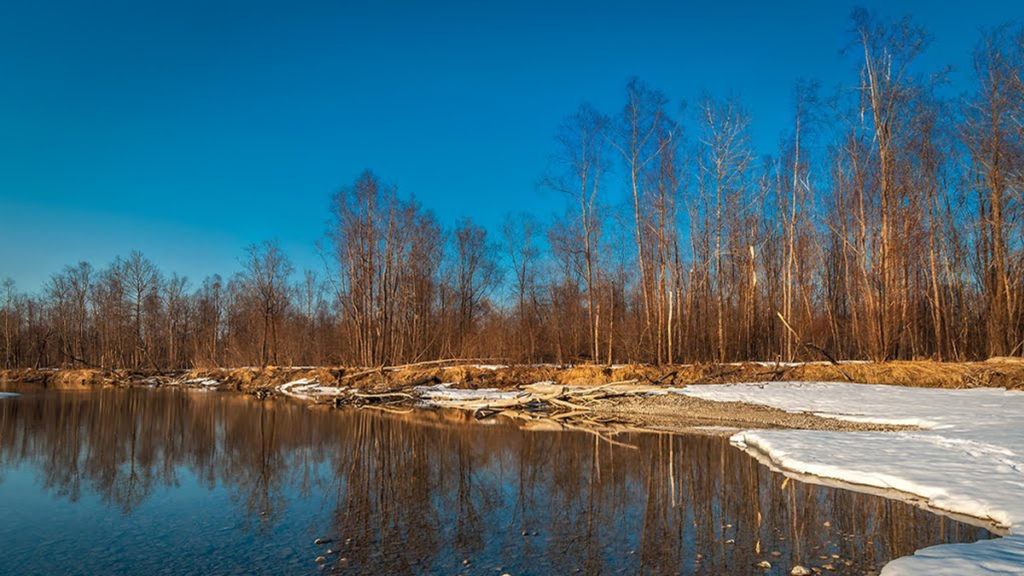 Day 8 — Okhotsk City, Russia

The city of Okhotsk is on the banks of the Okhota River (giving its name to the town and the sea). For many years the most important port in the Russian Far East. It was from here that Vitus Bering left for his two expeditions in the early 18th century, but the town had lost its importance in the 19th century and today counts only some 4000 inhabitants. Taking the Zodiac up the river mouth we will land in Okhotsk and will explore the town and its highlights. Strolling down the puddled unpaved street, it seems as if you step back in time. There are few signs of any 21st-century conveniences, but monuments honouring Russia's Communist past, which include a large statue of Lenin towering over the town square. The local museum has quite an interesting collection featuring items of the area's history: a stuffed Tufted Puffin in winter plumage, a Steller's Sea Eagle hanging from the ceiling, weaponry, old photographs, and exhibits covering recent events. The Ethnic Cultures Centre shows tents of the local tribes, and traditional household objects. We also expect to see some local dances.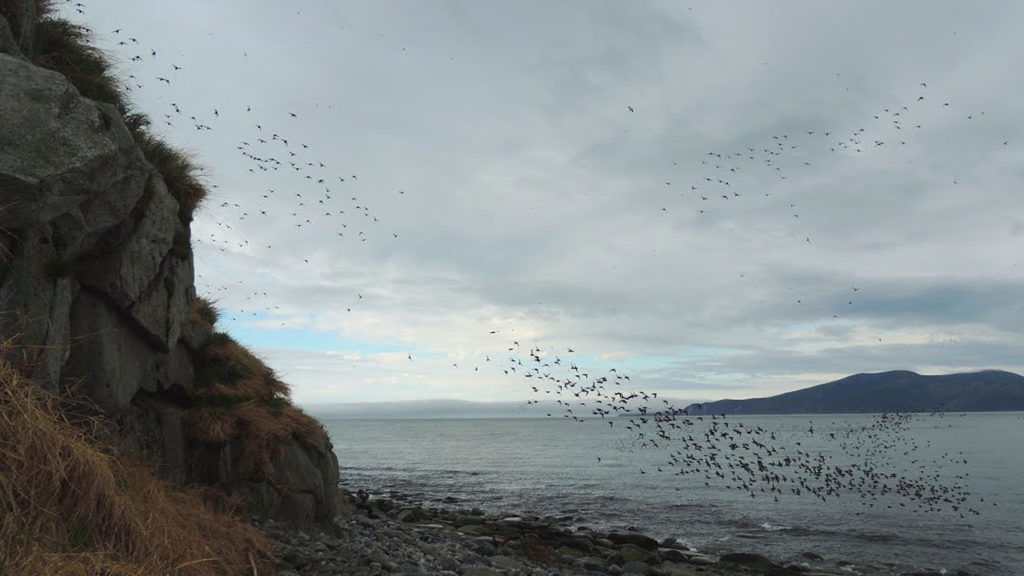 Day 9 — Talan Island and Zaviyalova, Russia

During the morning we intend to land on the small and, except for the occasional researchers, uninhabited island where seabirds had been counted now for nearly 30 years. The originally 1.5 million Crested Auklets found here have halved in number, but the Tufted Puffins have increased to 120,000 and the Horned Puffins are stable at 80,000. In addition there are Parakeet Auklets, Ancient Murrelets and Spectacled Guillemots breeding on the island. Because of these huge numbers predators have arrived too. Red foxes are known to take advantage of the ice to come over from the mainland for the season, returning to the mainland once the birds have left (and the ice has formed). Steller's Sea Eagles nest and hunt here too. During the early afternoon Silver Discoverer will reposition to Zaviyalova Island. Once we arrive we will do a Zodiac cruise looking for wildlife: Steller's Sea Eagles, Harlequin Ducks, Goosander and other birds and might go ashore. This much depends on whether brown bears are seen in the vicinity or not.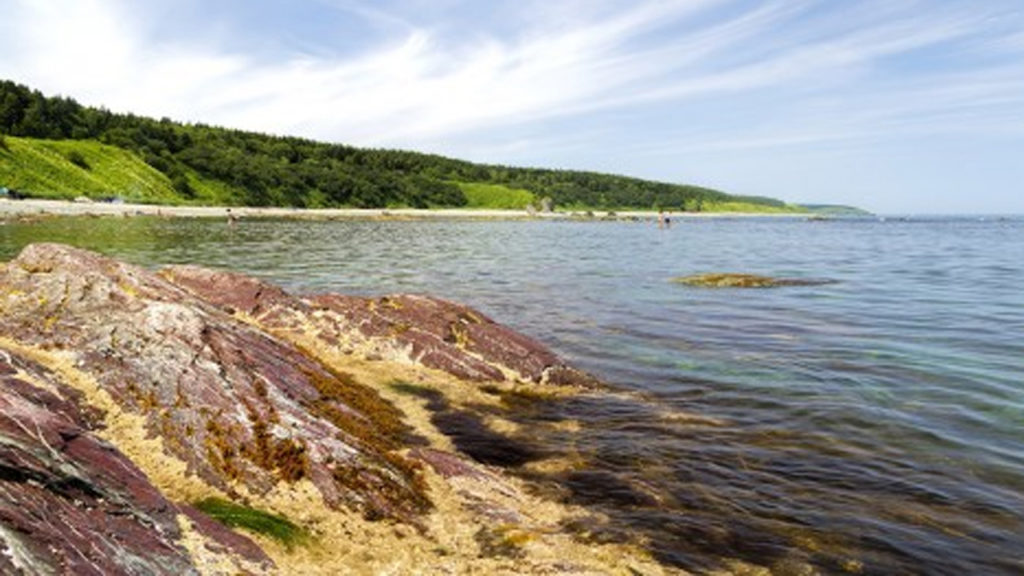 Day 10 — Utkholok Peninsula and Kvachina River, Russia

During the morning we will take the opportunity for more lectures, before we reach the western shore of Kamchatka at Utkholok Peninsula. This region produces a large percentage of all wild Pacific salmon and hosts the greatest diversity of salmon species on Earth. The Utkholok and Kvachina watersheds are among the most productive and best-protected steelhead rivers on the Peninsula. Apart from the salmon "riches" this is an important lowland tundra ecosystem of the western Kamchatka Peninsula. The Utkholok and Kvachina are meandering through low floodplain forests of cottonwoods and willows, and both rivers have large steelhead salmon, sometimes weighing as much as 30 pounds (18 kg).  The Wild Salmon Center has been working with Russian scientists, government officials and local communities to establish a salmon protected area here. Landing near the mouth of the river we want to explore the beach and surrounding marshy dune. It should be a good afternoon for the birders as the Utkholok Peninsula is one of 35 RAMSAR sites in Russia.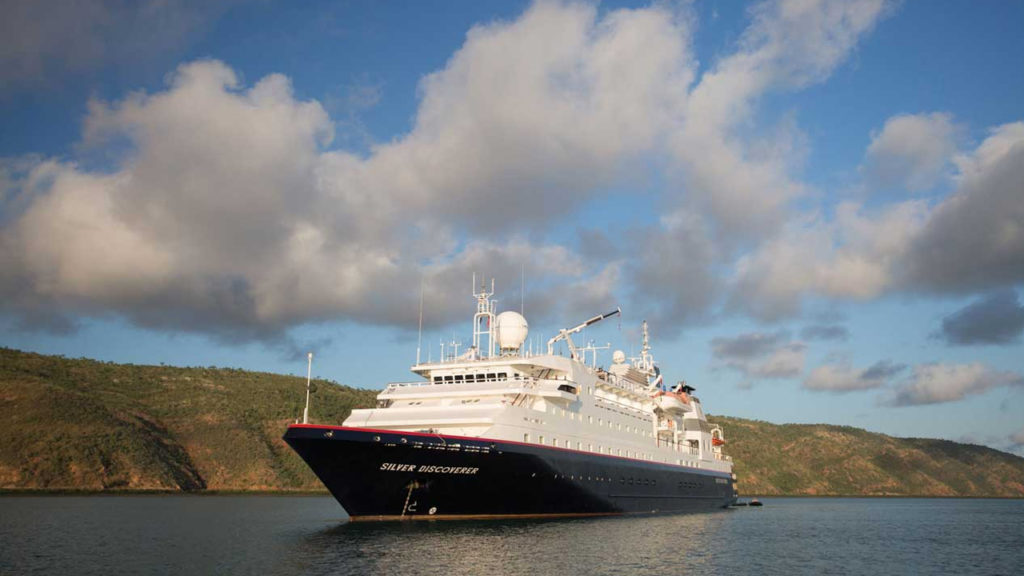 Day 11 — At Sea, cruising the Sea of OkhotskAfter all the different activities during the last few days, today you can relax. Have a leisurely breakfast, join one of the Naturalists on deck spotting wildlife, attend a lecture about the natural history of the area, and let the Galley Team tempt you with a food or wine tasting seminar, or visit the Gym.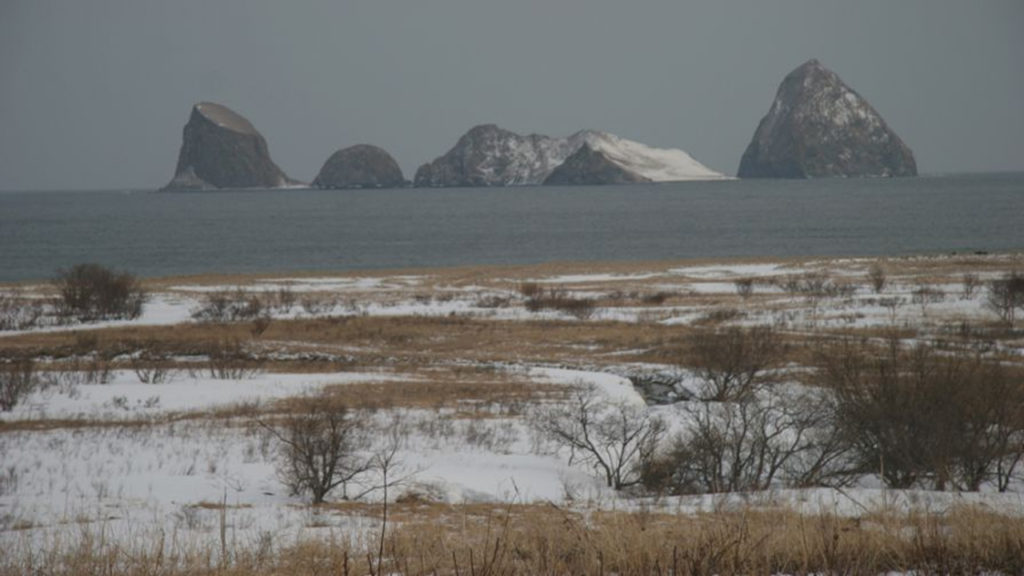 Day12 — Utashud Island, RussiaThe three islands that form Utashud are quite small, but seem to be the remnants of a former volcano raising 80 meters out of Vestinik (Messenger) Bay. Although the island is deprived of forest fragments of giant petrified trees have been found on the island. Utashud is one of the richest islands on the southeastern side of Kamchatka looking at wildlife and is notable for its population of sea otters (up to 300 individuals), as well as the Stejneger's harbour seal and spotted seal rookeries. From spring until late December, grey whales feed here. There are 10 species of marine birds with a total of over 22,000 pairs, including one of the largest colonies of Slaty-backed Gulls (4,000 pairs) and Tufted Puffins (10,000 pairs). Steller's Sea Eagles and brown bears are known to frequent the islands, while native people from Kamchatka used to visit this island to hunt for sea otters. A small cabin has been set up to be able to observe birds and marine mammals. During the afternoon attend a lecture or scan the waters and sky for marine mammals and seabirds on our way to the Russian Far East's most important town.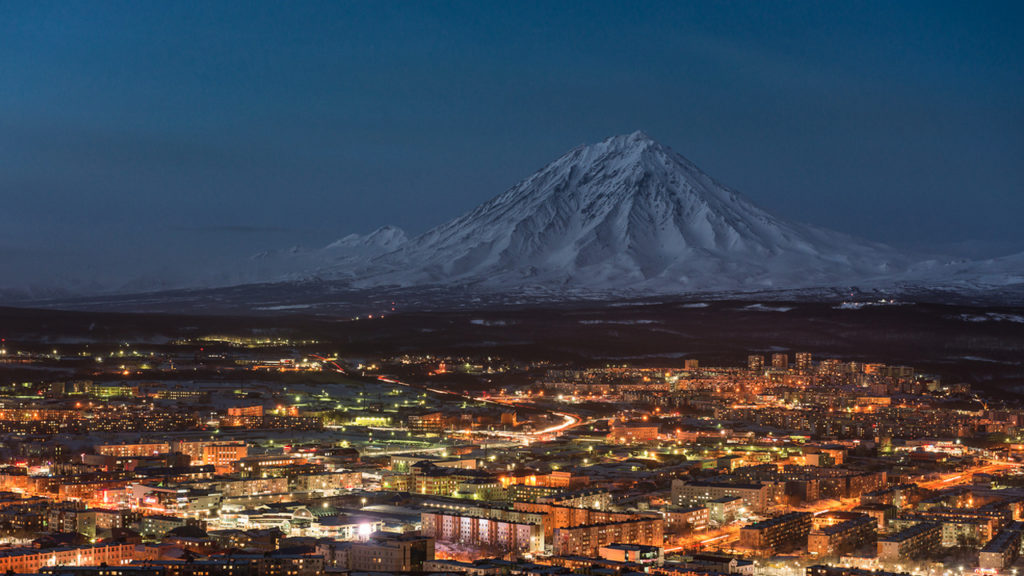 Day 13 — Petropavlovsk-Kamchatskiy, Russia

Petropavlovsk, the town of Peter and Paul, derives is named from the two sailing ships used by Vitus Bering when the great explorer reached Avacha Bay in 1740. It is the only major city on the peninsula and one of the oldest. Petropavlovsk is also the scientific and cultural centre of the region, and today we will see why as local guides take us on a comprehensive tour including the museum of ethnography and natural history, the art school, the gold-domed Russian Orthodox Cathedral and the marketplace. A drive out of the city and into the beautiful countryside will take us down a narrow road through a forest of willows, alder, poplars, and the stone or Erman's birch -which is a symbol of Kamchatka. Splashes of pink fireweed and yellow rattle brighten the roadside. Our destination will be the sled-dog kennel where racing sled dogs are kept. A local folk-group will entertain us with songs and dances of the Even and Itelmen ethnic groups.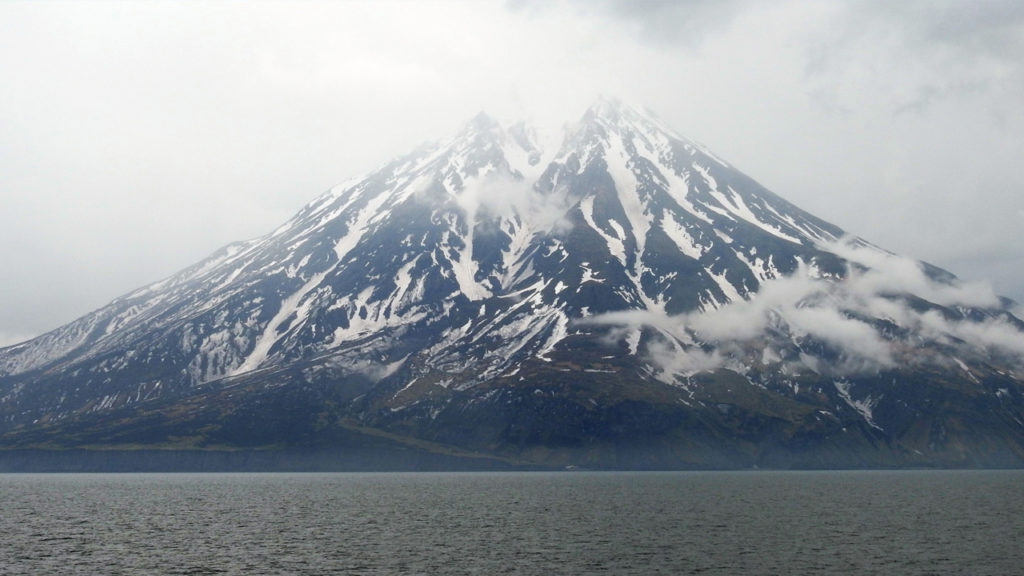 Day 14 — Atlasova Island

Around noon Silver Discoverer reaches Atlasova and its 6,500 ft. (2,000 m) high volcano Alaid -the highest volcano in the Kurils. Alaid is praised by the Japanese for its almost perfect volcanic cone. We land by Zodiac on the black lava beach for a walk to see the remains of the Taketomi tufa cone and the women's prison, or gulag. The women, many of them political prisoners during the Soviet rule, were sent here to raise foxes for fur. Peregrine Falcons can sometimes be spotted flying above the beach, while buzzards, Eurasian Wigeons, and Tufted Ducks have all been observed on the island.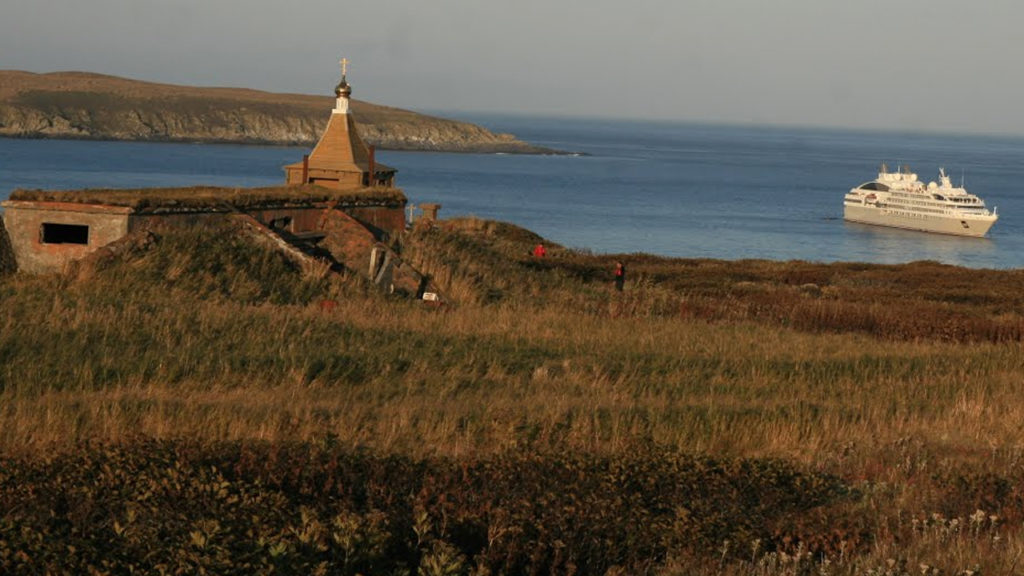 Day 15 — Matua Island and Yankicha Island

Matua is home to one of the Kuril's most active volcanoes, with more than 14 documented eruptions in the past 250 years. We hope to make a landing and start a long walk to the upper plateau of Matua along a dirt road that cuts through dense thickets of alders. Singing Eurasian Bullfinches, Siberian Rubythroats, ravens, Eye-browed Thrushes and some very active Peregrine Falcons are among the birds expected. Learn about the Japanese military base that was set up here during WWII and how the Japanese used to capture geothermal heat from the volcano to keep the runway open during winter. The newest building on uninhabited Matua is a tiny Russian Orthodox Church –with room for 4 to 5 people inside. Standing on the edge of the main plateau of the island and commanding a marvellous view of the bay, the church has been beautifully constructed of wood. During the early afternoon Silver Discoverer will reposition to Yankicha, the southern part of Ushishir Island. The island is quite impressive — actually so much so that it is featured in almost all articles about the Kuril Islands. The southern part (Yankicha) has a caldera accessible only by Zodiac and only during high tide. Inside this extraordinary lagoon with its fumaroles and hot springs, we can still see traces of the tremendous forces that created the island long ago and a visit here is invariably one of the highlights of the entire voyage. The number of auklets, which breed here, is truly incredible. If we are lucky we may also catch a glimpse of an Arctic Fox or even the rare and elusive Whiskered Auklet. Arctic Warblers and Middendorff's Grasshopper Warblers can be seen apart from the seabirds nesting here. Polar Foxes had been introduced by the Japanese as a resource for fur trappers. As the island is a nature reserve for birds, the foxes live off the vast number of breeding birds, especially the auklets that nest on the slopes in cracks between the boulders and stones.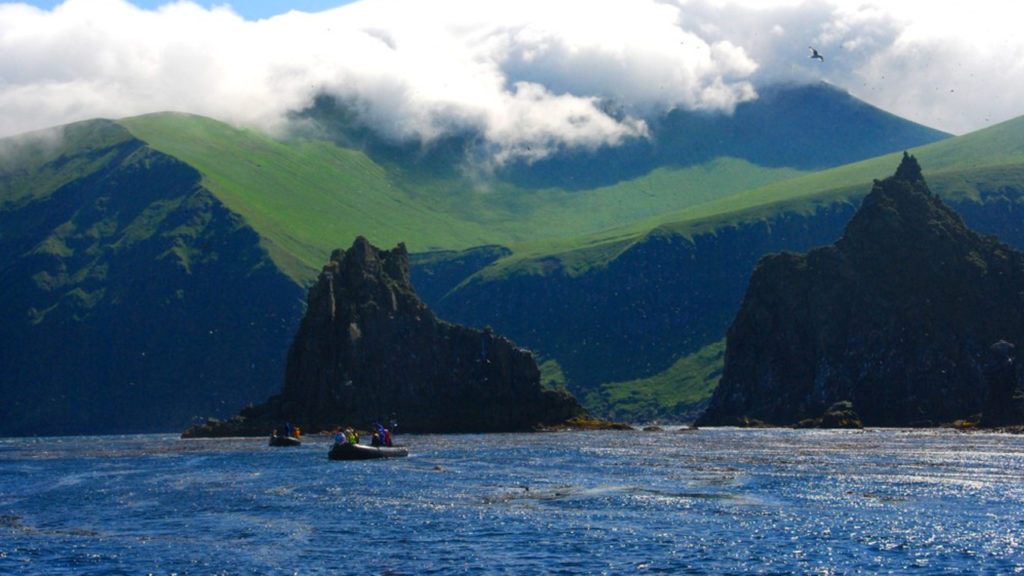 Day 16 — Chirpoy Island

During the early morning we will approach Chirpoy and will search by Zodiac (weather permitting) along the Coast of Chirpoy Island for the profusion of wildlife that lives in the area, including Steller sea lions, Northern Fulmars, kittiwakes, puffins and auklets. Whales, and specifically orcas, have been seen around Chirpoy. If Snou volcano is active we might see the slow flowing lava reach the sea from a safe distance. During the afternoon Silver Discoverer will continue the journey crossing the Sea of Okhotsk.
 Day 17 — Tyuleniy Island, Russia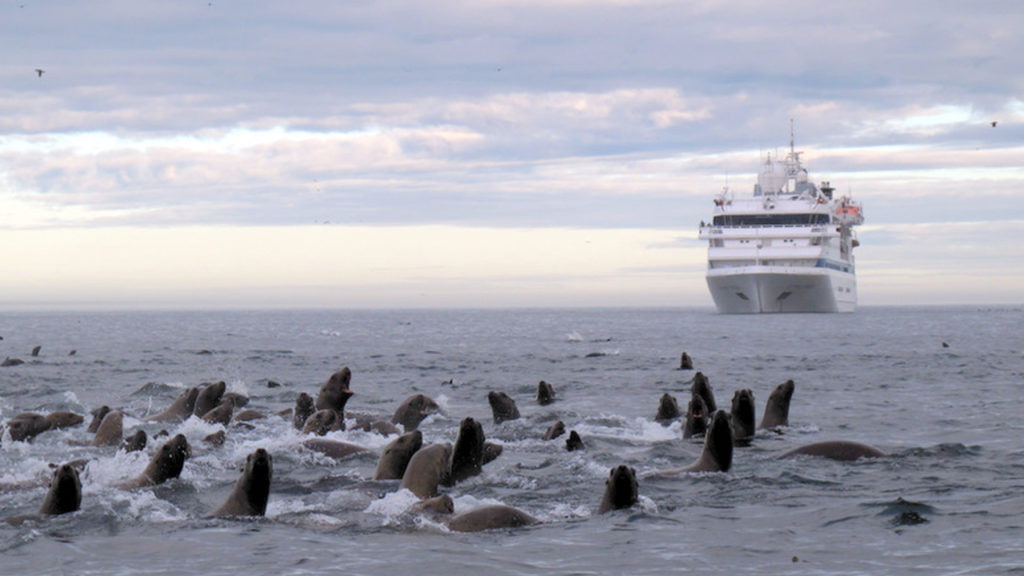 While we approach our next destination, our Expedition Team will have you out on deck with them to look for the fulmars, kittiwakes, gulls and cormorants that are known to come to Tyuleniy Island. But more importantly, thousands of Northern fur seals and Steller sea lions call Tyuleniy Island their home -understandably the island was named this way, as the word Tuleniy means "seal" in Russian. The island has one of the highest concentrations of Northern fur seals in the Russian Far East. During the summer months the island is home to literally tens of thousands of seals and sea lions that will be heard through a cacophony of sound difficult to imagine. Bulls, their harems and many thousands of young black pups all jostle for space on the crowded beaches that flank the small rocky island. A small group of houses is sometimes used by researchers assessing the sea lion and seal populations but on occasions there are so many seals on the beach that landing is impossible, as there is simply no space available. Our visit at the end of the breeding season is timed to see not only the seals and sea lions, but also Black-legged Kittiwakes, Slaty-backed Gulls, Tufted Puffins, Common Murres and Pelagic Cormorants that summer on the island. During the afternoon Silver Discoverer will head north through Aniva Bay.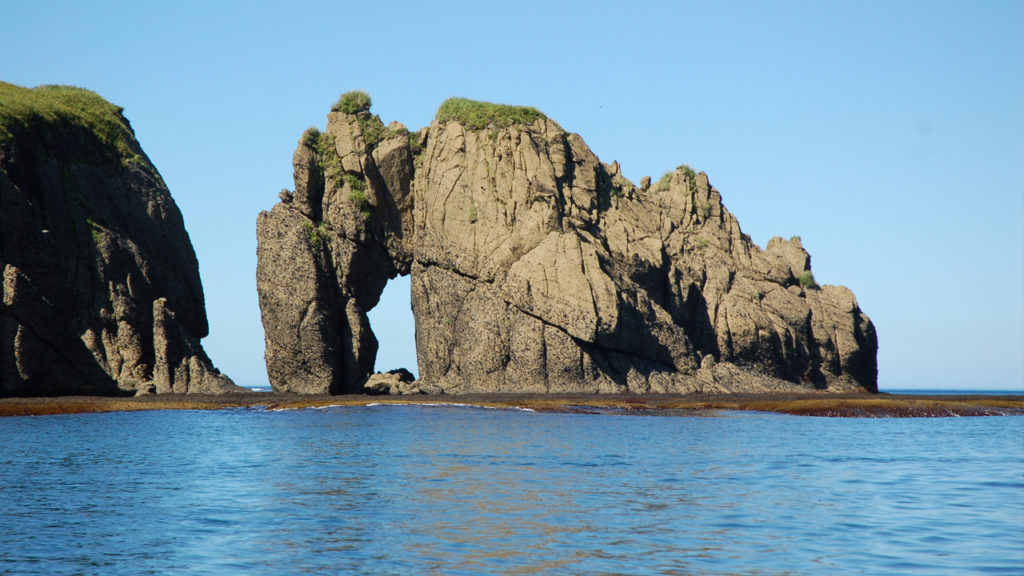 Day 18 — Korsakov, Sakhalin Island, Russia

Today we clear out of Russia. This is a technical stop only and as soon as the formalities are concluded we will continue on our way to Japan. Today is a good day to edit your photos, listen to the last lectures of your voyage, which will be preparing you for Japan. Do not miss the presentation of the voyage's DVD by our on-board Photographer/Videographer, who will have recorded the various highlights of this voyage.
 Day 19 — Otaru, Hokkaido, Japan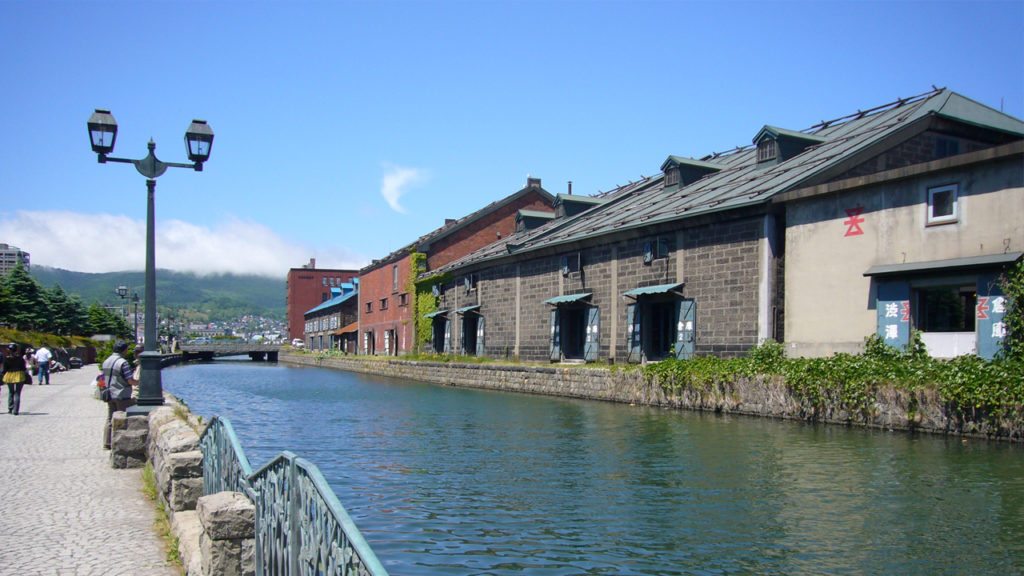 After clearance into Japan and following breakfast, disembark Silver Discoverer.
Expedition highlights and wildlife listed here are possible experiences only and cannot be guaranteed. Your Expedition Leader and Captain will work together to ensure opportunities for adventure and exploration are the best possible, taking into account the prevailing weather, wildlife activity and ice conditions. Expedition Team members scheduled for this voyage are subject to change or cancellation.
Transportation
Airfare & airport transfers are not included in the cruise cost. The transfers from airport to seaport can be arranged for extra cost.
Policies
Privacy Policy
Use of Information
We only collect information that consists of name, contact number, email address, residential address, and passport details. Rest assured that all these details are privately kept by World Juanderer for one-time purpose only, if and only if you avail services once, and not transferrable to any other client or business.
Other Information
We reserve the right to use or disclose any information as needed to satisfy any law, regulation or legal request, to protect the integrity of the site, to fulfill your requests, or to cooperate in any legal investigation.
Questions
If you would like us to update your information or cancel your subscription, or have questions about our privacy policy, please contact us at +63 917 772 6273 or email us at [email protected]. You may also visit our office at 20F Wynsum Corporate Plaza, F. Ortigas Jr. Road, Ortigas Center, Pasig City.
TERMS AND CONDITIONS
YOUR HOLIDAY RESERVATION
On receipt of your deposit, subject to availability and at our discretion, World Juanderer will reserve your place on your selected holiday. A contract is only made between you and us upon your booking being confirmed and accepted by us.
PRICE
Prices are subject to change without prior notice. Each package tour and its add-ons are subject to change based on the tour operators and number or participants in the tour.
IF WE CANCEL OR CHANGE YOUR HOLIDAY
3.1 World Juanderer reserves the right to change or cancel your booking in accordance with operating requirements or circumstances beyond its control.
3.2 If an alternative is not available or acceptable, you will be entitled to either a full refund of monies paid by you to us or transfer to another World Juanderer holiday without payment of any transfer fee.
3.4 If the change or cancellation is due to force majeure (i.e. circumstances like political unrest, war or threat of war, riots, bad weather conditions etc.), we will give a full refund of any monies paid to us less reasonable expenses incurred by us in respect of your booking.
3.5 World Juanderer is not responsible for the costs of any other travel arrangements affected due to our cancellations or rescheduling of any trip departure.
HOLIDAY DETAILS AND CONDITIONS
4.1 With our personal experience in traveling and joining these tour packages, World Juanderer will do our best, at our discretion, to select accommodation, sightseeing trips, and transportation to give you good value for money.
4.2 World Juanderer constantly strives to improve trip itineraries and features. If such improvements can be made, or unforeseen circumstances beyond our control make changes necessary, we reserve the right to vary itineraries and to substitute hotels. World Juanderer is not responsible for any other travel arrangements affected due to our cancellations.
LIABILITY
5.1 We will be entitled to keep for each account any interest earned on such monies.
5.3 All monies paid by you to us, whether in respect of the deposit or full payment, may be disbursed by us as and when we see fit, in respect of the services to be provided and/or fees payable under your selected holiday. The payment of a deposit or any other monies in respect of your holiday shall be deemed to be an authorization to disburse thereof as aforesaid.
BOOKING YOUR TRAVEL
1.1 In order to reserve your holiday, you must inquire and get in touch with the Travel Specialist to check the preferred travel package. World Juanderer accepts the deposit as a first installment of the holiday price only once World Juanderer has confirmed the booking in writing.
1.2 Deposit and final payment will be converted to the local currency (if payment is non-Philippines Peso) at point of booking. Conversion is based on the prevailing exchange rate at time of full/balance payment and what is released by the Bangko Sentral ng Pilipinas.
1.3 World Juanderer cannot guarantee special add-on requests nor will it assume any responsibility or liability if clients' special requirements are not fulfilled.
PAYMENT
2.1 If payment isn't made by the due date, World Juanderer may assume that you have cancelled and World Juanderer will levy cancellation charges in accordance with clause 3 below.
2.2 Tickets and other documents will not be forwarded until we have received full payment.
2.3 In the case of Late Bookings made within 45 days of your departure from your home country, the full cost of the holiday will be payable immediately on booking and we reserve the right to provide all travel documents at the holiday departure point.