Winter isn't always over and there are many places in the world to appreciate it even better. For most, it's an opportunity to enjoy winter sports like snow ski on top of the mountain. For others, it can be more interesting like reindeer sledding, or visiting Santa. And to some, it's more of having the time to relax and watch the amazing Northern Lights show. We've seen a lot, enjoyed amazing view, and now have narrowed the real coolest Ice Hotels in the world where you can stay.
5. Village Igloo Blacksheep
Location: La Plagna, France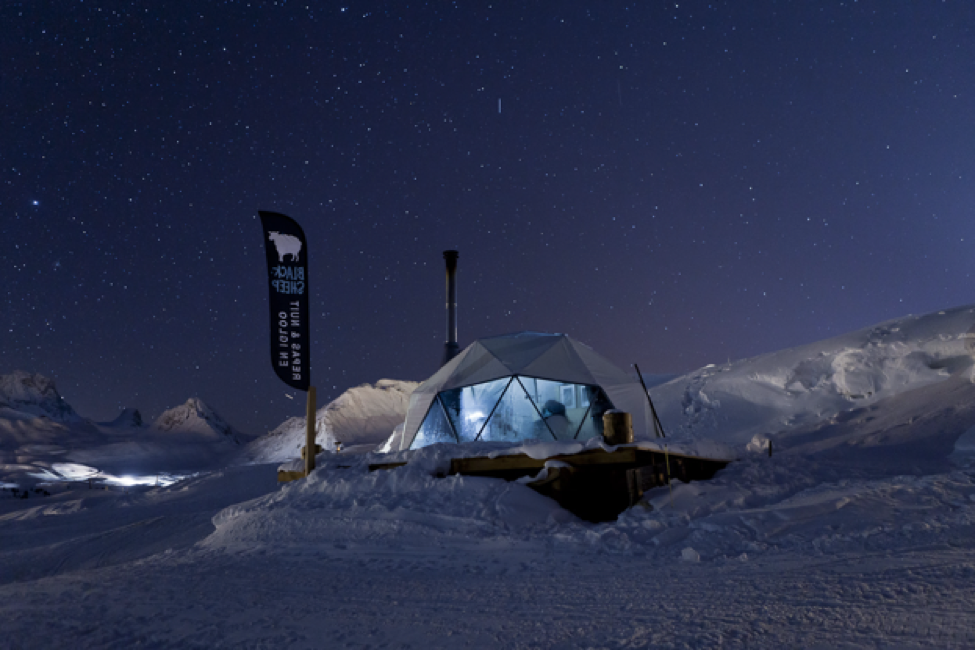 Image source: Flyjetclass
If cold is not your thing, then Blacksheep Igloo Village is an ideal choice to stay for the winter season. Also offering hot igloo as an option, Blacksheep Igloo Village is located 2,118 meters above sea level in La Plagne ski area. From there, you can enjoy views of Mont Blanc while nested in your two-person romance igloo or you can also bring your family for a stay in a larger igloo. Each igloo comes with sleeping bags and faux fur blankets.
4. Kakslauttanen Arctic Resort
Location: North Lapland, Finland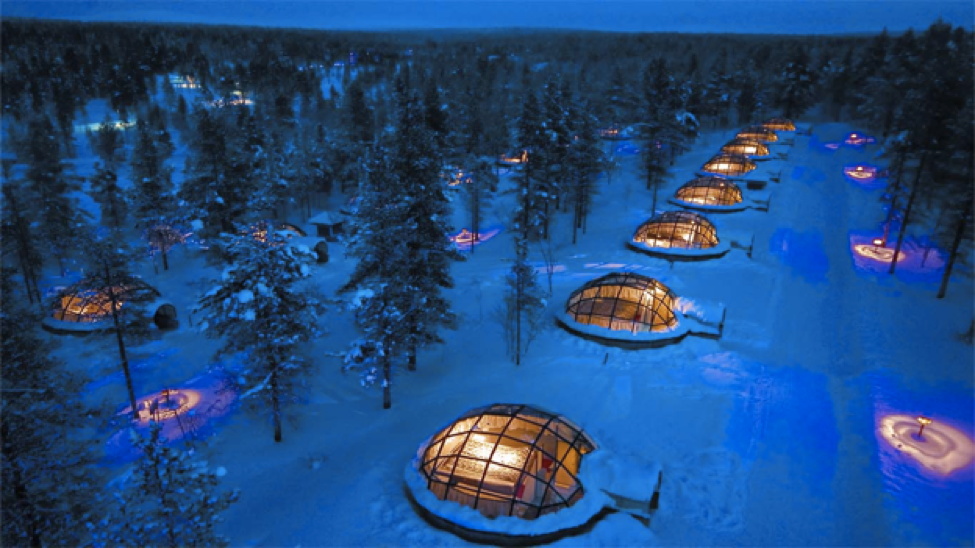 If there's one thing to note, Finland is one of the safest countries in the world, so Kakslauttanen is an easy and risk-free choice for a successful holiday. Kakslauttanen is a family hotel located in the Finnish Lapland, 250 kilometres north of the Arctic Circle—a 30-minute ride from Ivalo airport. The property offers glass igloos and traditional wood chalets and has the world's largest smoke sauna. The thermal glass igloos feature a bedroom with a glass roof and luxury beds, perfect for watching the Northern Lights without having the need to go out. Some igloos also include a bathroom with sauna, while others have shared shower facilities.
3. Hotel of Ice Balea Lake
Location: Cîrţişoara, Romania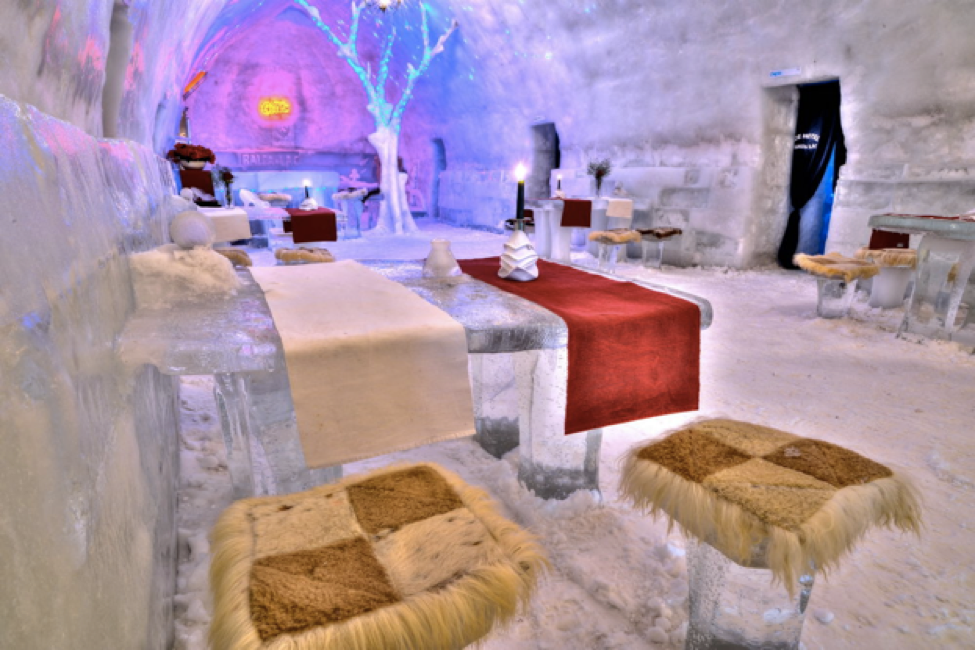 It's impossible to talk about Romania without mentioning Dracula from its famous Transfagarasan Road location. The Hotel of Ice sits 7000 feet above sea level in Romania's Carpathian Mountains. And while the real life Dracula may have lived away from here, it hasn't stopped the folklore on this once important mountain trade route.
The Ice Hotel itself is built each year on a frozen glacial lake at the bottom of the Balea Waterfall. The hotel has been managed since 2005 by the neighboring Balea Lac Ski Lodge and can be accessed by cable car. There are 12 actual ice hotel rooms plus 3 snow igloos for rent all centered around an awesome main hall. Because of the neighboring big ski area, the Hotel of Ice's bar and restaurant are always quite fun even if you don't have a room reservation. The property also houses many public parties throughout the Winter season.
2. Hôtel de Glace
Location: Quebec City, Canada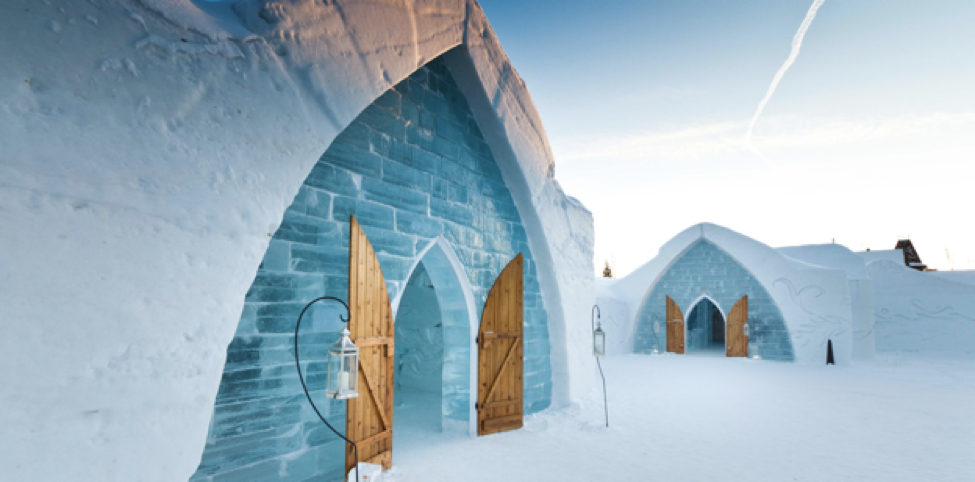 Hôtel de Glace is sure to dazzle visitors with its unique style and spellbinding decor. Guests can choose to enjoy a cocktail served in a glass made of ice or spend the night in one of the 45 theme rooms and suites and relax in the outdoor hot tubs and sauna.
Located only 4 km from the north end of Québec City, the Hôtel de Glace is a must-see attraction that has seduced over a million people around the world since its opening in 2001.
Rooms will be available from January 4 until March 25, 2018, but visits are started since December 23. Enter this magical universe!
1. Icehotel
Location: Jukkasjärvi, Sweden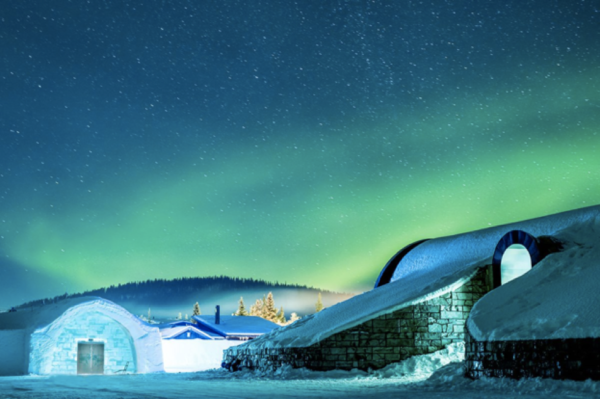 Founded in 1989, it is reborn in a new guise every winter, in the Swedish village of Jukkasjärvi – 200 km north of the Arctic Circle. The Torne River, the arts, and creating a setting for life-enriching moments are at the heart of it all.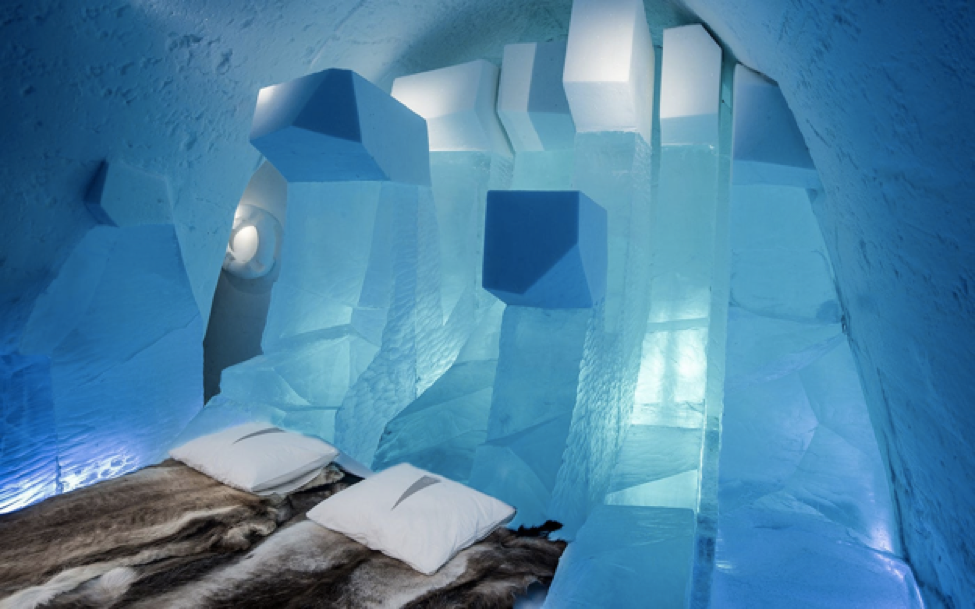 "Icehotel is an art symposium in a class of its own. The energy released here when creative people from a wide variety of backgrounds and places meet the ice is almost tangible," says Arne Bergh, partner and sculptor who's been part of Icehotel since the start.
Icehotel is all about ice and creativity – with art as the result. That's why the artists invited to take part are not required to have worked with ice before – they're selected from among those who send in their ideas based on originality and creating it in real natural ice would pose a new challenge. Each year some 40 artists are taking part in Icehotel. The notion that several weeks' hard work and months of planning and preparation culminate in something that only exists for a few months is in some respects a bittersweet feeling.
WorldJuanderer has also visited and stayed in this property. Check out our hotel experience here.