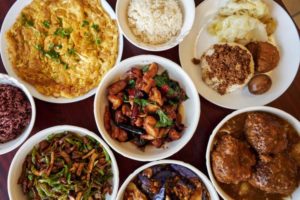 Taiwan is considered a food lover's paradise because of the plethora of dishes that are sugary, freshly herbal, and deeply filled with umami flavors that make anyone come back for more! From noodle soups to dessert, the little island of East Asia is packed with big tastes that are either found on the streets of night markets or in a hot pot palace. Read on the list below to find out must-try dishes of their local cuisine as World Juanderer takes your palate on a trip to the popular cuisine of Taiwan!
1. Beef Noodle Soup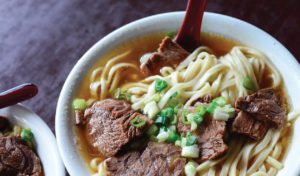 What is Taiwan without their iconic beef noodle soup? The country considers the soup as their national dish because of their distinctive taste that is known worldwide. Their twist to the noodle soup features pickled mustard greens, five-spice powder of star anise, cloves, Chinese cinnamon, Sichuan pepper, and fennel seeds. The umami soup is then paired with tender beef shanks or tendons.
2. Braised Pork Rice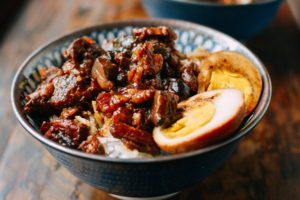 Considered as the ultimate Taiwanese comfort food because it is neither complicated nor fancy: just fatty, soy-braised pork belly served over steamed rice. You can eat it as is or as a base meal with different side dishes. 
3. Gua Bao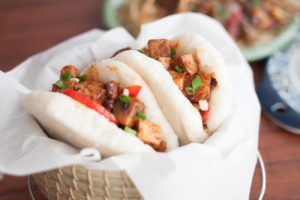 Often translated as "Taiwanese hamburger," Gua Bao is a specialty in the northern area of Taiwan that features a steamed, puffy mantou buns that are generously stuffed with slabs of pork belly that's been braised in a marinade of rice wine, soy sauce and Chinese five-spice powder. To complete the umami flavor of Gua Bao, the burger is garnished with crushed peanuts, pickled mustard greens, and tangy cilantro.
4. Xiao Long Bao or Soup Dumplings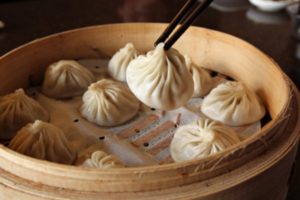 Din Tai Fung, a Taiwanese chain became internationally synonymous with soup dumpling, causing people to flock to the original branch in Taipei. Xiao Long Bao, as commonly called, is a broth-filled steamed pork dumplings. Wondering how to eat it? Pop it in your mouth and enjoy the experienced despite scalding your tongue to the steaming hot soup.
5. Stinky Tofu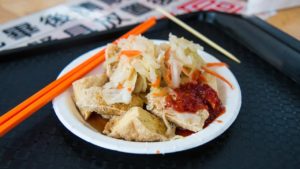 It is believed that dishes with pungent aroma tastes exquisite – just like most Taiwanese who believes that the smellier the food, the better. A perfect example of this is their Stinky Tofu, a moist and tender tofu that's most often served fried. The smell is due to the fermentation of tofu on a brine that includes Chinese herbs, dried fish or shrimp, bamboo, mustard, and amaranth greens. Don't let the stench fool your palate! 
6. Pearl Milk Tea
Taiwan is where the milk tea craze originated. Known by different names around the world – boba tea, pearl tea, tapioca milk tea – the simplest version that dominated the world is only made with milk, black tea, and chewy tapioca pearls. It's a sweet, chewy, and refreshingly fun treat to enjoy after a day of walking around the city!
7. Pineapple Cake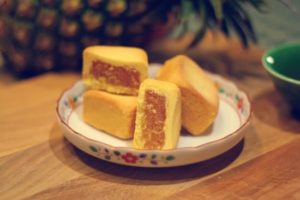 Taiwan's most-sought-after pastry and souvenir gift is a tangy, palm-sized shortbread tart called Pineapple Cake. One bite-sized cake is filled with pineapple paste that is sweet and chewy! In Taiwanese culture, pineapple cake symbolizes wealth, fortune, and prosperity. When it comes to marriage, parents judge their potential sons and daughters-in-law according to the brand they gift.
To know more about Taiwan's culture through its cuisine, contact World Juanderer's specialists to book you a trip to the island without worries. So contact us and seek your adventure now!