London and Paris are two of my favorite destinations in Europe. To go back each time would be an unravelling experience distinct from each other.
Though we often hear about Britain and France's historical conflicts, these two cities have more in common than you think. Not only are they highly photographed because of the Big Ben and Eiffel Tower, they are also renowned for their massive arts, culture, and culinary scenes. Read further to follow my journey in these two gorgeous metropolises.
I first arrived in London early November to complete my last design studies module at the British Academy of Interior Design. Finally, one last step before I complete my two-year program! My classes were held at the open campus of King's College London, first established in 1829. However, the classrooms themselves looked decidedly contemporary.
Incidentally, I was there during the holiday season which led me to revel in the festive glitz of Oxford Street.
I also remember checking into the wondrous Marriott Hotel Marble Arch, with its modern yet cozy interiors. My day to day was made more exceptional with all the sights and modern comforts Europe could give.
A week later, I then transferred to Amba Hotel, where I joined Tina and Jo.
Covent Garden was our destination for the day, a vibrant district in the West End where there's more than a bevy of quirky and high-end shops and restaurants.
We had our dinner – at oddly enough – a Japanese restaurant called Plum Valley in Soho's Chinatown. It's a true testament to London's international character. My friend's cousin, Nala, who's a local, also went with us.
Day three was sightly, to say the least. Me and my high school classmate Kelly and her friend Melissa dined at celebrity chef Gordon Ramsay's Bread Street Kitchen, where we were treated to a feast of artisan meats and a delicious caramel dessert.
The Tube was another great stop itself, as it was a remarkably organized and neat transport system. I traveled by train to Albert Memorial, in Kensington Gardens. Westminster Abbey, The Houses of Parliament, and the London Tower Bridge were just a stone's throw away.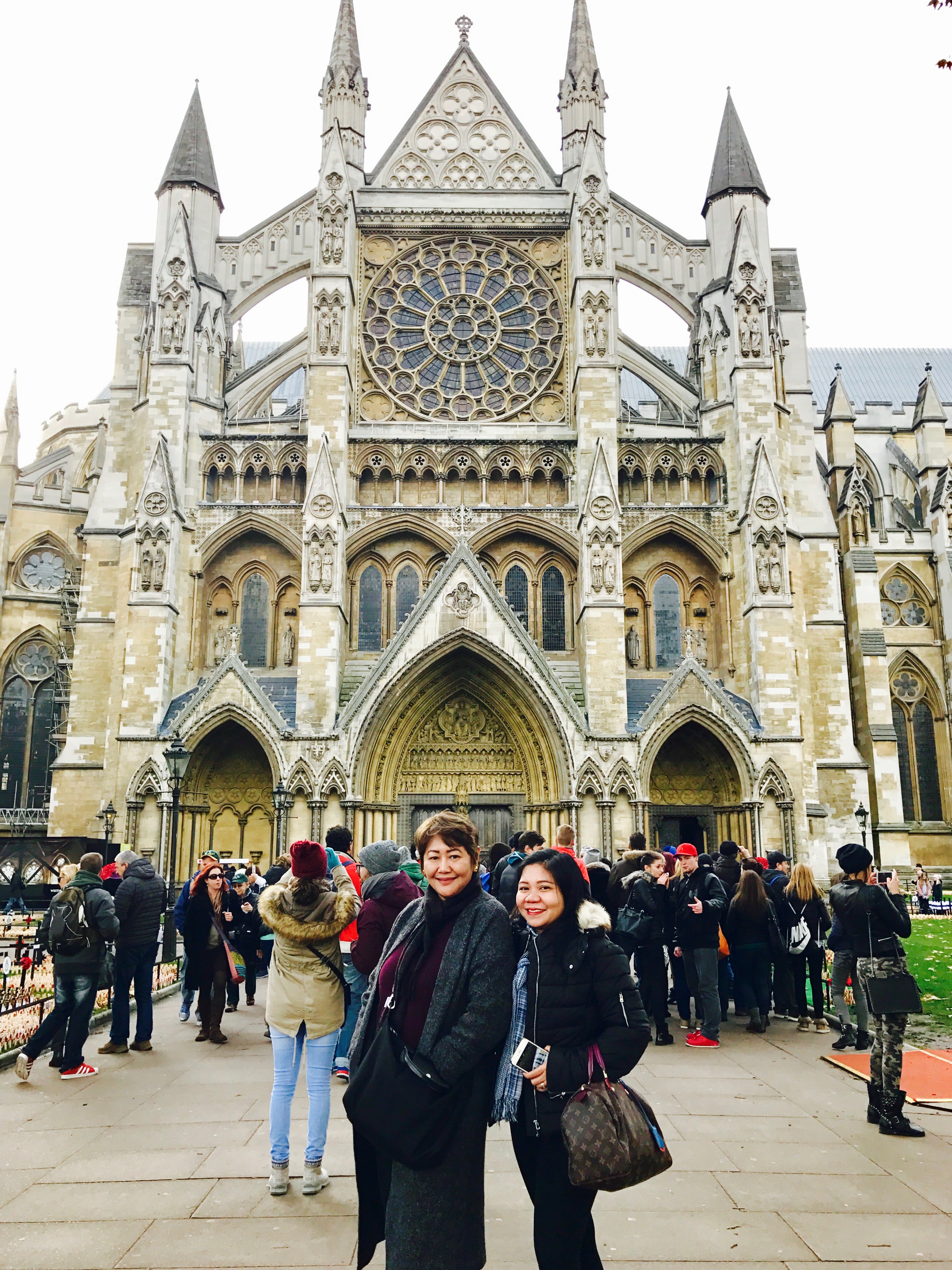 We also went to Buckingham Palace, the official residence of the Queen, where we witnessed the changing of the guards.
We continued exploring London's international cuisine, at Laduree, a Parisian-style patisserie with heavenly fare.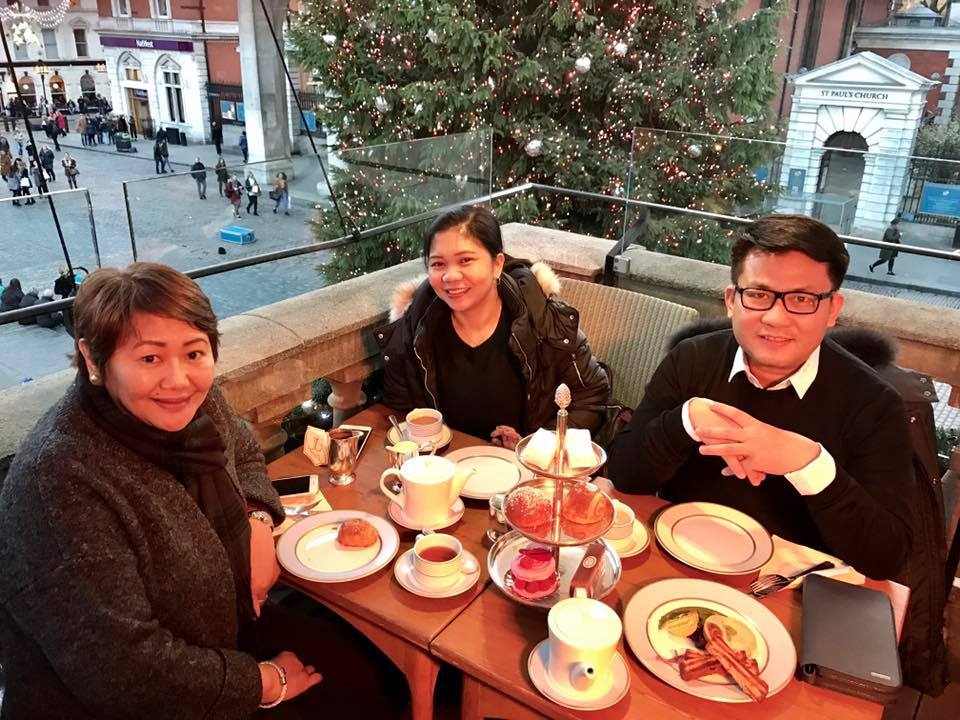 After Laduree, we explored what for many is the epitome of fashion heaven, Harrods. Founded in 1834, this luxury department store is where many Londoners get their dose of retail therapy. We even visited the Princess Diana and Dodi Al-Fayed's memorial inside, which many tourists pay their respects to.
By nightfall, we helped ourselves to some gastronomic offerings at The Shard, one of London's premier fine dining restaurants. I hear Adele, Kate Middleton, and Prince William are regulars. There, we not only enjoyed the food, but a panoramic view of the whole city too.
One of the best things about London is its accessibility to other European cities. The next day, we bid adieu to London and boarded a Eurostar train to Paris via the St. Pancras International station.
Ah, the beauty of crossing the English Channel. We then said 'bonjour' as we arrived at the French capital. Our first stop was at the lovely Notre Dame Cathedral, where the golden foliage made the place even more magical.
We also stopped by the Hotel DeVille, which is not actually a hotel, but Paris' city hall, which houses the Mayor and the local administration.
Afterwards, we went to Les Vedettes du Pont Nerf, more famously known as the Bridge of Locks. A popular stop for tourists, the landmark truly reflects Paris as a city of love.
Our next stop was the Pont de Bir-Hakeim, a steel bridge that crosses the River Seine. Originally named Pont de Passy, it was renamed to commemorate the French Army's victory at The Battle of Bir Hakeim in World War II.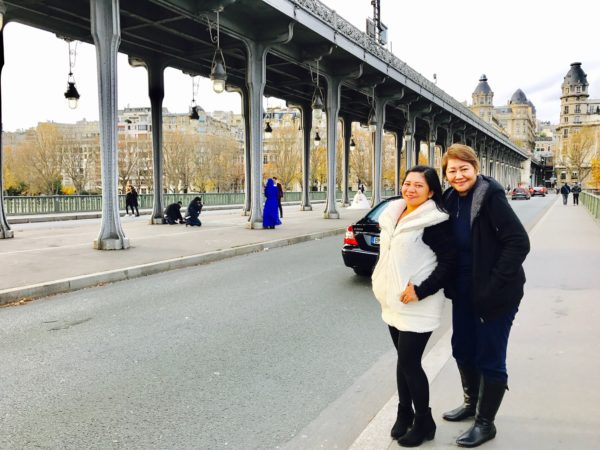 The next day, we went to the Fondation de Louis Vuitton, an art museum and architectural gem commissioned by the LVMH luxury group.
We then stopped by the Sacre-Couer, a Catholic basilica dedicated to the Sacred Heart of Jesus. It's perched on top of the Montmartre, the city's highest point.
We then visited Galeries Lafayette to have our own dose of Parisian shopping. The Christmas tree display at the center of the department store was massive, and made for happier browsing.
Then, I left Tina and Jo to continue their retail therapy to go to the Angelina tearoom, an elegant patisserie first opened in 1903 by Austrian confectioner Antoine Rumpelmayer.
Night fell, and with it we saw how Paris truly embodies its nickname The City of Lights. From the Louvre Museum, to Trocadero Square (with views of the Eiffel Tower) and Avenue Montaigne, we saw how the city simply glittered.
The Centre Georges Pompidou was another gorgeous landmark. When I visited, there was an exhibition that paid tribute to Belgian surrealist artist Rene Magritte. Yet the landmark is probably most famous for being featured in the James Bond film Moonraker that starred actor Roger Moore. Inside, we dined at this picturesque restaurant called Le George's, with a gorgeous view of the city lights, and of course, gourmet fare unlike anywhere else.
Alas, our trip to Paris was about to come to an end. On our third and last day, we met up with my former employee Eunice at the stunning Le Plaza-Athenee restaurant, located in Avenue Montaigne. The food was simply marvelous, culinary masterpieces even.
Afterwards, we once again crossed the English Channel back to London, where more art, culture, and shopping awaited us. I shopped further at Selfridges, where foreigners can conveniently get tax refunds after purchasing.
We then had a full Mediterranean course at Zizzi, an Italian restaurant that serves some of the best pastas in London.
The shopping and dining doesn't end there, as we went to the iconic Notting Hill for some banana Nutella crepes at Portobello Market and some specialty book browsing at the Notting Hill Bookshop.
We capped off our day with some world-class theatre at the West End, where we watched a Kinky Boots show at the Adelphi Theatre. The story is set in Northampton, England, in an ailing shoe factory owned by Charlie Price. To save it, he manages to create lines of boots that drag queens and other transvestites can wear. By a long shot, I can say that the show was wildly entertaining, and the performances dazzling and catchy. I was at the edge of my seat from beginning to end.
After more than a week of exploring in two of Europe's biggest cities, we finally set aside one whole day of relaxation. By 9pm, we were on a flight bound for Manila. Till we meet again London!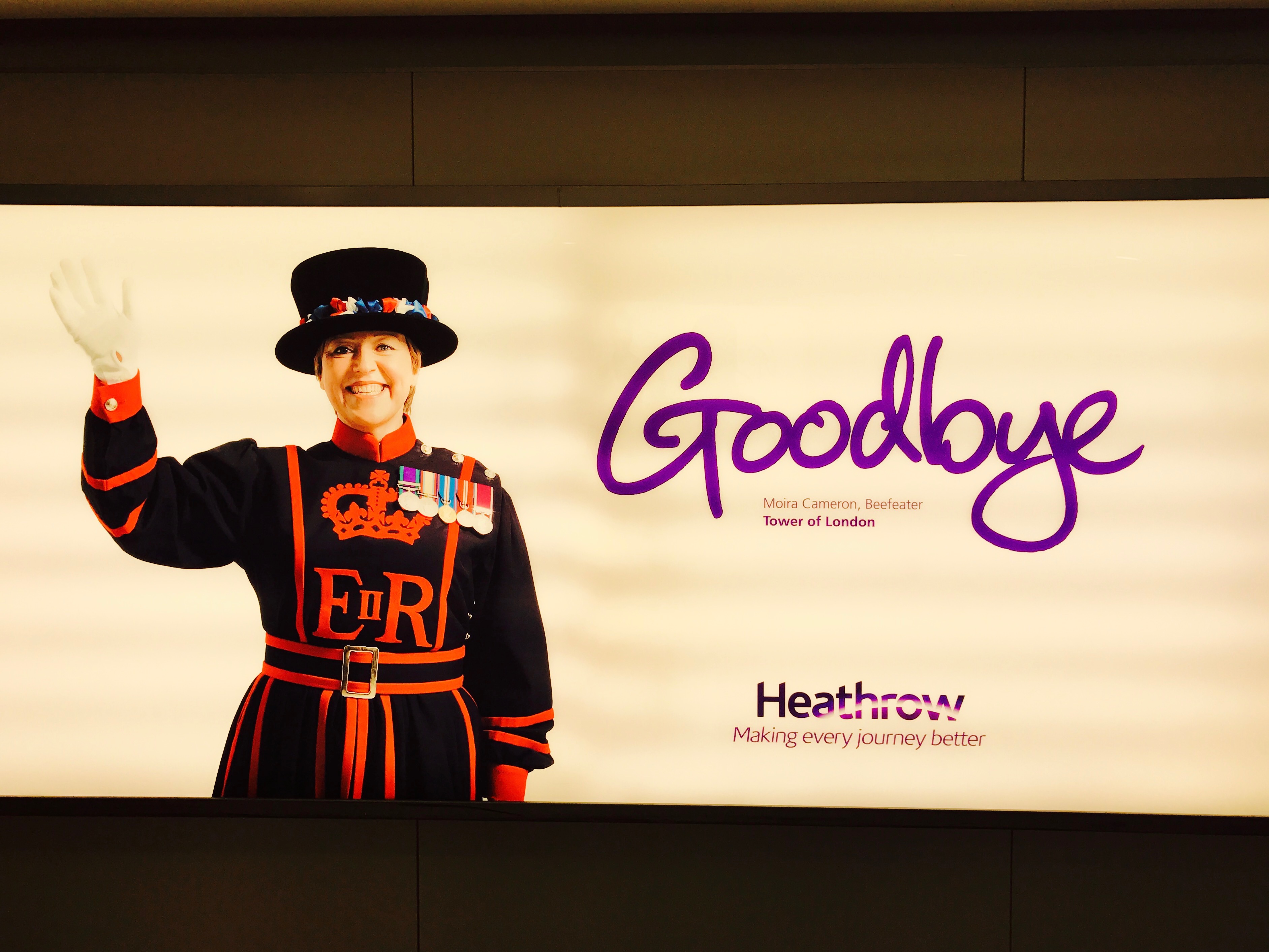 #JuanderWithUs further for more adventures in familiar and off-the-beaten-path places all over the world.