When you hear someone say "Vietnam," images of Banh Mi and Pho might come to mind, and you start craving for the country's own take on the baguette and noodle soup. Yet on a deeper level, Vietnamese cuisine is a product of a turbulent history and diverse influence that is evident in the rich flavorful broths that the locals make, the creative dishes they whip up, and the tropical fruits and vegetables that locals grow from its cool highlands to its lush valleys. Indeed, Vietnam offers a plethora of unique dishes, both sweet and savory. In this month's blog, get to know more about this Southeast Asian nation's gastronomy beyond the usual specialties.
1. Ốp la (Op la)
An alternative to Banh mi is a dish called Op la, or sunny-side-up eggs cooked in a small personal pan. It is often supplemented by slices of ham meat, caramelized onions and served with crusty Vietnamese baguettes. It is a unique fusion of Vietnamese and Western ingredients and cooking methods – merged in a single meal. It is typically a breakfast meal for the locals but you can get it any time of the day.
2. Bún riêu (Bun Rieu)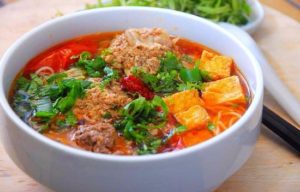 Vietnam is considered as the land of noodle soup because of its wide and creative varieties. The broth of Bun rieu is made from crab base stock and tomatoes which is an interesting mix of taste. This results in a distinct seafood flavor and natural sweetness from the tomatoes. Oftentimes, the broth is mixed with a dash of rice vinegar for a sour and well-rounded flavor. The noodles are topped with pieces of golden fried tofu, meatballs, chunks of pork, squares of congealed pig's blood, and a slab of rich crab paste. 
3. Bún mắm (Bun mam)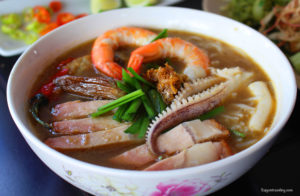 Though it emits a pungent smell because of the fermented fish sauce, this characteristic is what makes the bún mắm's broth taste well-rounded and balanced. It is loaded with bun, or rice vermicelli noodles on the bottom of the bowl, then topped with an assortment of meats such as squid, prawns, and pork with a slice or two of eggplant. Added to the glorious combination is a hint of sweetened tamarind juice and sugar – a taste that counteracts an otherwise salty mixture.
4. Bún bò Huế (Bun bo Hue)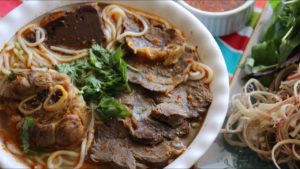 Bun bo Hue is a noodle soup that originated from Hue, a city on the coast of central Vietnam. The broth is beef-based and known for being spicy and flavorful. Its soup, on the other hand, has a beefy flavor made fragrant with lemongrass, creating a savory and citrusy taste. 
5. Bún mọc (Bun moc)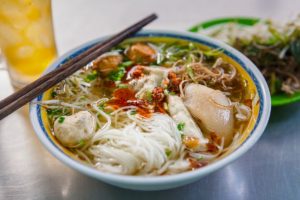 This soup is normally pork-based. It has a soothing and simple taste that is not spicy at all, just comforting. A bowl of Bun moc typically consists of pork broth, rice vermicelli noodles, pieces of pork meat, meatballs, Vietnamese sausage, and sometimes pork bone. 
6. Bánh cuốn (Banh cuon)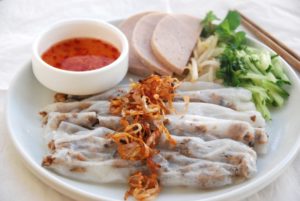 Banh cuon is directly translated as rice cake. It is a non-deep fried spring roll, filled with savory ingredients. The wrapper is a rice and tapioca flour, steamed to become a crepe. It is then filled with lightly seasoned minced pork, small dried shrimp, and wood-ear mushrooms. The spring roll is served with a dipping sauce called nuoc cham or sweet fish sauce.
7. Bánh khọt (Banh khot)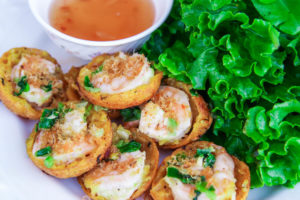 Banh khot is considered as little pancake sliders that are eaten as a light meal or snack. The batter is made from rice flour, coconut milk, and a hint of turmeric powder for that light tangy flavor. It is fried in a hot griddle with a lot of oil. As the batter turns gold, a shrimp is placed on the center and sprinkled with green onions.
Craving for a Vietnamese food trip? #SeekYourAdventure with the help of #WorldJuanderer and experience world-class travels and food experiences without any difficulties. See you on your next adventure!