While most people hold grand celebrations for important milestones like their 40th, I, on the other hand, chose to tick an item off my bucket list and spend a relaxing retreat in one of the world's most famous remote beach paradise.
Although I've heard so much about its beauty, I've been told that nothing beats seeing its wonders up close. So with the closest of my loved ones in tow, I set out for an adventure and juandered into the deep blue marvels of the Ocean paradise that is Maldives.
…
Our journey started with a flight from Manila to Singapore. We then spent around 2-3 hours at the airport before boarding our flight to Malé. Changi Airport's SilverKris Lounge is great for relaxing as you wait for your plane to arrive.
Moreover, in my experience, SA offers topnotch Business Class service, making it the best carrier there is in my book. The 5-hour flight to Malé came and went like breeze. Upon arrival at the Malé International Airport, we then took a domestic flight to Kooddoo Airport via Maldivian Airlines. The night flight, however, had us miss seeing the turquoise waters of Maldives from above.
After an hour and a half, we finally reached Gaafu Alifu Atoll at night, and from there, a private yacht took us straight to Addu City and into the island resort that is Shangri-La's VIllingili Resort & Spa.
DAY 1: Exploring Trails in Land & in Water
There are no words to describe the experience of waking up to the clear waters and tropical breeze of Maldives. Add to that the luxury of spending your escape at the elegance of Shangri-La Villingili's over-water villas, with thatched roofs and sundecks that have the best of modern conveniences, ranging from flat-screen TVs, to iPod docks and more. Judging from its high-end interiors and the outdoor amenities, you can really tell you're staying at the height of luxury.
We were completely refreshed and ready to face a day packed with fun and exciting activities; first of which is biking around the island. I and my partner, together with my sons EJ and Ivan, had a great time circling around the parks and setting our sights on the surroundings of Addu, Maldives' southernmost atoll.
What's great with staying at the villas at Shangri-La Villingili is how you can easily check out the underwater reefs just by stepping outside. Snorkeling right under our villa gave us all a preview of just how beautiful the marine life at Maldives is.
Our next adventure had us cruising the clear waters and into the deep ocean as pods of spinner dolphins match our boat's speed. The sight of these creatures leaping out of the water in spirited bounds just a few feet away from us left us all in awe.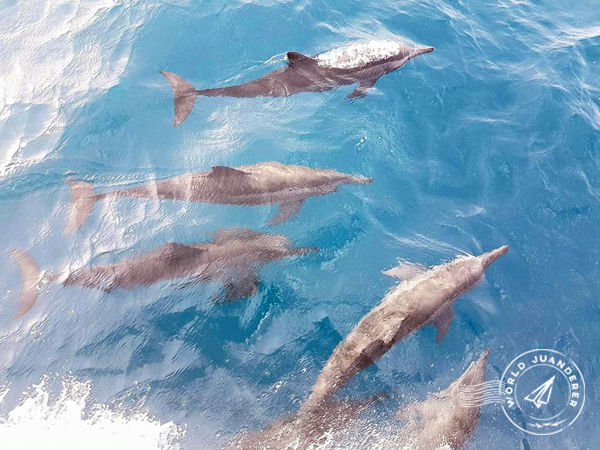 After our exciting cruise with the dolphins, we ended our day at one of the best restaurants in the island. On the east coast of our resort lies the famed Dr. Ali's, a place that treats diners with the best Maldivian gastronomic flavors.
Dr. Ali's stands as a tribute to the legacy of renowned Maldivian doctor of legend, famous for his exquisite recipes and wonderfully-woven tales of adventures. Dr. Ali is known for fusing his dishes with exotic herbs and spices collected from his encounters across East Asia and the Middle East, as a seafarer aboard the Yahumbarra from the year 1850 to 1900.
Dining at Dr. Ali's had us feasting on flavors from the regional cuisines surrounding Maldives. Its like taking your taste buds on a trip to sample Indian Ocean's spices, to exquisite Cantonese, and tangy Vietnamese fare. Mouth-wateringly glorious and authentic are their Middle Eastern offerings such as the tagines, kebabs, pita bread, and various Lebanese dips.
DAY 2: Massages, Mosques, Sunsets, & Scallops 
Our second day was spent in full relaxation courtesy of Chi, The Spa at Shangri-La Villingili. I could literally feel years of stress and worry leave my entire being as the massage therapist treated my body with the Kandu Boli Ritual massage.
Sprawled in bed set in a villa in front of the ocean, I was given a dose of renewal with a cowry shell massage that relaxed all my senses. As my body got kneaded thoroughly with pure coconut oil, I took a moment to reflect on how thankful I was for having a chance to find peace in this corner of paradise.
Around Villingili are the inhabited islands of the Addu Atoll named Fedhoo, Marhadoo, and HIthadoo, which we got to explore by boat, before visiting the mosques of Seenu. Maldivian architecture draws from its Perso-Arabic roots, with their culture influenced heavily by Islamic tenets, particularly the the Sunni school of thought.
After that, we rented a yacht to cruise the ocean and stop right in the middle to witness the spectacular Maldivian sunset. We even had a whole tray of freshly-picked fruits to go along this amazing sail.
For my birthday dinner, we dined at Fashala Restaurant, an establishment famed for serving the freshest seafood in Maldives. We recommend reserving tables in advance because they only open at dinner and on selected days at that.  Apart from my delectable birthday cake, me and my crew savored the scrumptious dishes made from local ingredients harvested by the farmers of Meedhoo and the freshest catch of the fishermen of Addu.
Truly an innovative fine dining experience, our evening at Fashala had all of us tasting only the finest the island could offer, with signature dishes like Pan Seared Sea Scallops served on green pea risotto, air dried ham and parmesan tuile, and Pan-Fried Duck Liver Escalope set on a bed of crushed potatoes, jam of figs, and Infused with truffle oil and nut-flavored butter sauce, to name a few.
The night at Fashala served as a fitting end to a day well-spent. My birthday escape got extra memorable with their sumptuous food and exceptional service, coupled with the company of the people I'm with. Stay tuned for part 2 as we explore a different and more exhilarating side to Maldives.