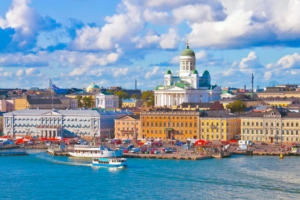 Ever since the United Nations began publishing its World Happiness Report (which ranks over 150 different countries by their freedom, income, trust, generosity, healthy life expectancy, and social support), one country has consistently appeared at the helm of the rankings. Finland, a Nordic nation of 5 million, has now officially, and unsurprisingly topped the list for 3 years in a row, according to the latest report. Even better, its capital Helsinki also gained the distinction of being the Happiest City in the World, in the inaugural list by the international organization.
Of course, the country's generous social benefits and world-class educational system counts a ton for the Finns' innate joie de vivre, but their love of design, coffee, and nature can be easily emulated by most of us too. Until we ourselves can discover the joys of Finland in person, here are some simple ways you can incorporate the Finnish secrets of happiness right at home.
1. Immerse yourself in world-class design and culture (even digitally).
As a mecca of design, Finland is known the world over for having produced the likes of notable brands like Nokia and Marimekko, as well as some of the most renowned architects and industrial designers such as minimalist icon Alvar Aalto. With a love for beauty and creativity embedded into Finns' cultural DNA, it's easy to understand why art & culture have become a powerful tool for their personal happiness.
While it's practically impossible to visit any of its museums and art galleries right now, many of them are pushing forward with their virtual exhibitions. From the comfort of your couch, we recommend taking a digital tour of the Alvar Aalto Museum, which is currently celebrating an exhibition of the architect-designer's revolutionary three-legged stool, or the immensely popular Amos Rex Museum in Helsinki, which is showcasing the next wave of local artistic talent through its Generation 2020 exhibition.
2. Enjoy a coffee break paired with something a little extra special.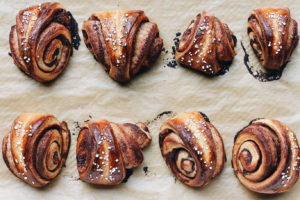 Consuming about 22 pounds per person each year, Finns are among the world's biggest coffee lovers. During every coffee break, they tend to pair their caffeine with an aromatic baked treat called Korvapuusti (literally meaning "slapped ears" in Finnish), a cinnamon bun filled with brown sugar that often features a whiff of cardamom.
Treat your family by baking a batch of these delicious buns at home, or maybe even share the recipe to a virtual Zoom party with friends.
3. Connect with nature habitually (even right from the living room).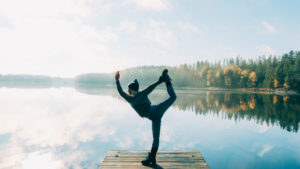 As the land of saunas, lakes, and forests (70% of the country is covered in forest), Finns are equally infatuated with the rural as with the cosmopolitan. Foraging for berries is a popular pastime, although many also simply find peace in the overgrown greenery and the gentle rustling of the leaves.  In fact, spending just 15 minutes in the forest can calm your pulse and improve your mood.
Until our parks and mountain trails reopen however, you can plug into those earphones and listen to the serene sounds of Finland's Lapland region.
Want to discover all of Finland's wonders in person? Our travel specialists can help you plan an exquisite holiday into the Nordic nation: book your future Finnish getaway by visiting worldjuanderer.com now. #SeekYourAdventure