What's your idea of a perfect birthday? Is it celebrating with a special meal at your favorite restaurant? A relaxing day spent with your loved ones? Or would you prefer to get away from it all, and treat yourself to an exciting adventure? As for me, I decided to do the latter, celebrating my birthday in the spectacular country of Morocco. Now, #JuanderWithUs as we explore the rich desert, twisting alleys, and aromatic souks of this beautiful kingdom.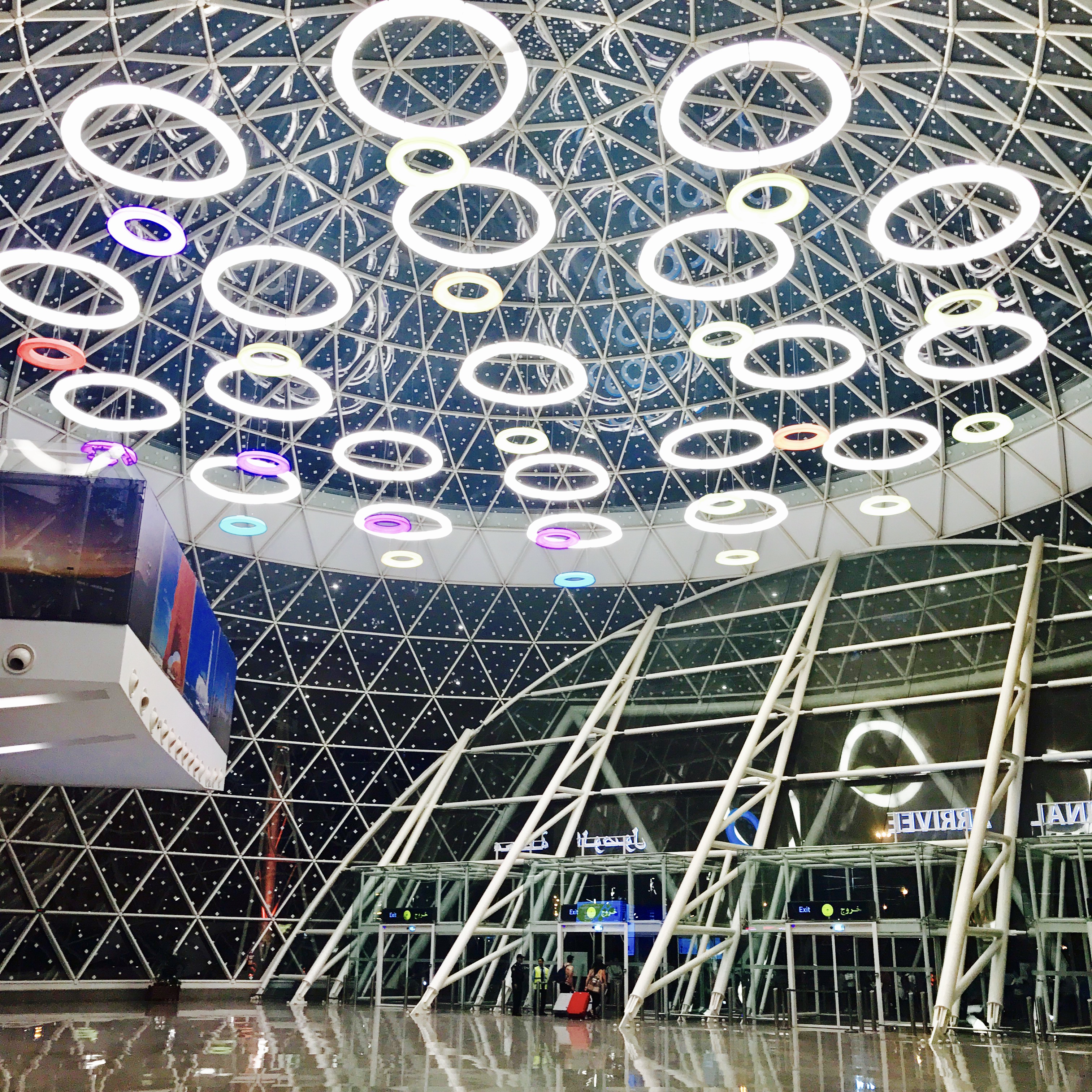 I first landed in Morocco late in the evening, in the city of Marrakech, known to be one of the most popular tourist destinations in Africa. Right upon landing at the Marrakech Menara Airport, I immediately saw its bright yet futuristic interiors. Modern in design but inspired by its ancient culture, the airport gave me a pleasing first impression of what's to come.
To get to my hotel, I made my way through Marrakech's Old Town, where all the lights were closed and homes were locked, free of the 24/7 conveniences of many big cities. It was already after midnight, and I longed for a good night's rest before beginning my adventure. Then, I finally arrived to my hotel, the stunning Dar Les Cigognes by Sansoucci.
With its intricate interiors, it had the ambience of a charming ancient palace. Still, I had to cut my hotel tour short, as it was time to head to my room and get some rest.
As morning came, the hotel's sleepy interiors were transformed into gorgeous artistry, with detailed arches and floors illuminated by daylight. Touring the place, I found out that the hotel is inspired by the riad, a type of traditional Moroccan house with a fountain and courtyard.
After unwinding for a bit in the hotel gardens, it was time for me to speed off to my first destination of the day – the Sahara Desert. Here's a look at our scenic drive to our stop at the Atlas Mountains, a vast mountain range which is famously snowy during the winter.
Stopping the car at the Atlas Mountains, we immediately toured its panoramic landscapes. There, we saw a variety of cinematic scenery, from the colorful painted rocks sold along the road to the dramatic terrain that looked seemingly endless.
We continued our journey to a small shop that made Argan oil. Known as liquid gold, it is one of Morocco's well-known exports used in everything from soap to cosmetics. There, we learned every step of its special process, from the tedious grinding to the extraction of the luscious oil.
After witnessing this special tradition, we then headed to another shop, which sold colorful garments made to cool people down from the desert heat. Here I am all cloaked up in a blue deraa, worn by men who cross the Sahara Desert every day.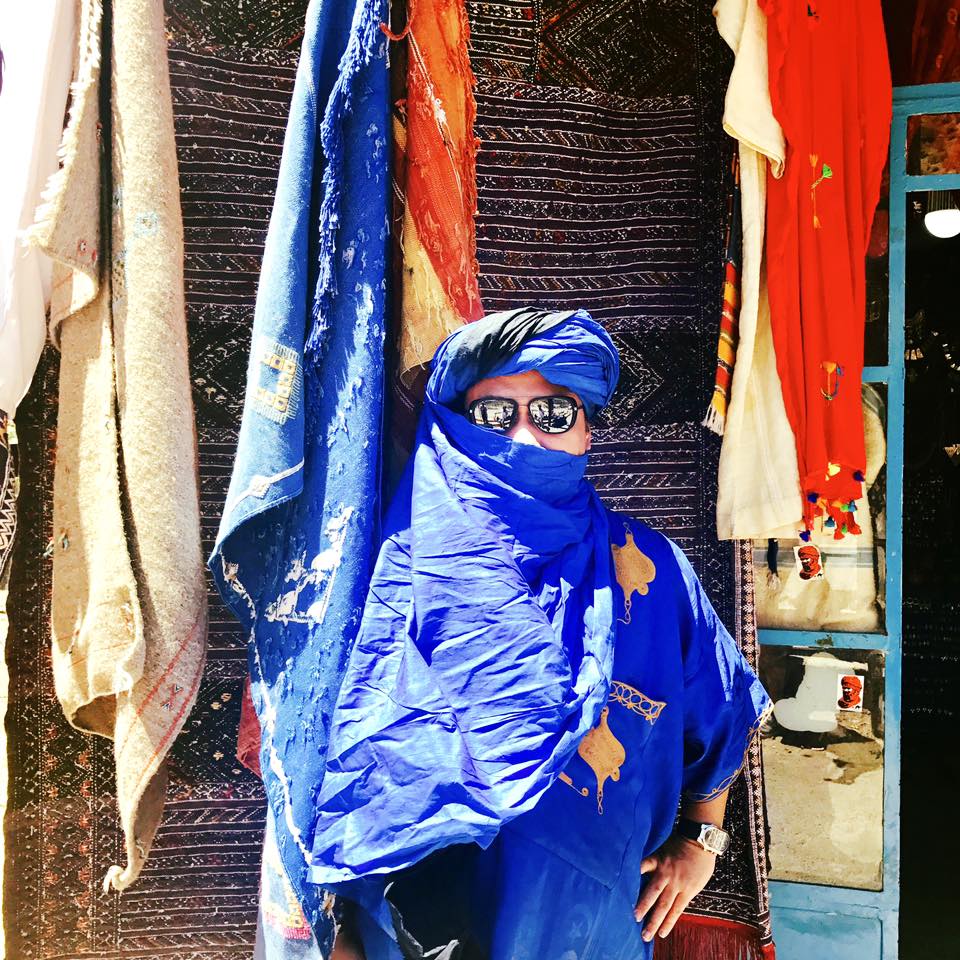 Then, we journeyed further into the scorching desert, into the Kasbah Ait Ben Haddou, an ancient citadel where several scenes of the Oscar-winning picture Gladiator were filmed. Truly, every single corner of the place seemed camera-worthy, as the stone structures glowed in the Sahara heat.
All that touring started to make me feel hungry! To satisfy my craving of Moroccan cuisine, I tried a Moroccan beef tagine for lunch, which is a stew made of meat and vegetables cooked in a clay pot.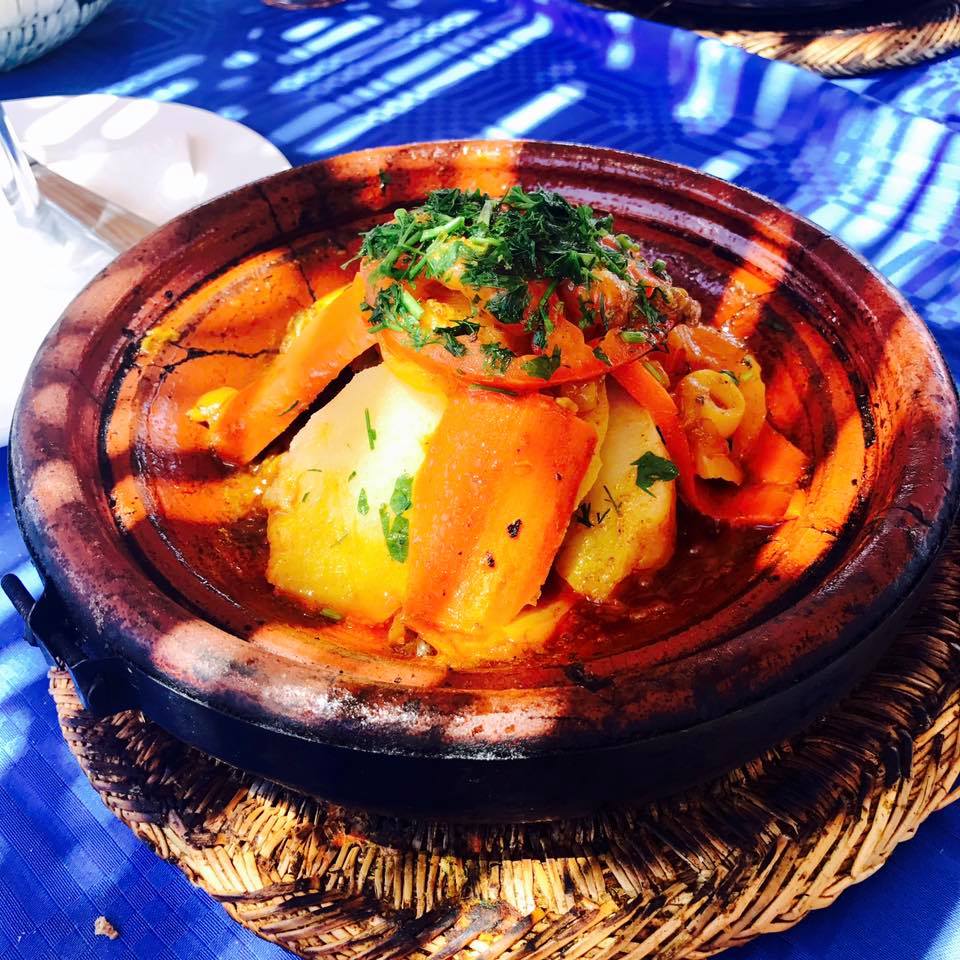 With my yearning for Moroccan tagine satisfied, I then continued to do some shopping – this time at a century-old rug shop located nearby. Here, I bought several carpets for a few of my Moodboard Manila clients. Each carpet was intricately patterned, which I knew would make for special decorative pieces in their homes.
With Moroccans' high regard for craftsmanship, I saw how each shop valued every process and detail, resulting in prized wares sought after around the world. Truly, the prestige of Moroccan crafts proved to be more than just hype.
As the sun began to set, we finally arrived at our Sahara Desert stop, which was our beautiful base camp hotel.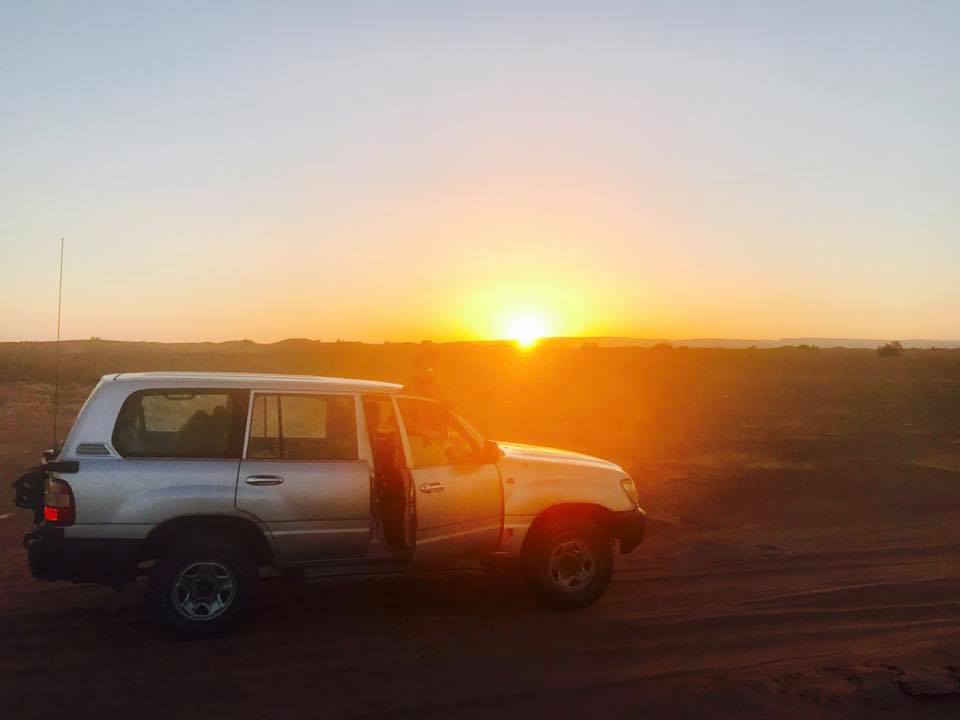 Stepping inside, we saw the base camp hotel's picturesque interiors, made more dramatic by the imminent sunset. Set up with a campfire, a dedicated tent, bathtubs, reading areas, and various other amenities, this was a place that brought you the best of hotel living amid the remote desert.
The eight-hour drive was definitely worth it. Still, there was a lot more to await at nightfall.
As my birthday celebration began to be set up, we were right in time to view the beautiful sunset. This was all possible thanks to the gracious hospitality of our host Hossnie, together with his crew Romar and Hamada.
As night fell, we were in for a treat for my exciting birthday celebration. What a way to spend this great day, in a stunning camp with all the things a traveler to Morocco could ask for.
With the campfire all set up, we began our birthday dinner with a glass of champagne, as well as a few other delicious Moroccan dishes. They then began to sing "Happy Birthday" to me in Arabic, handing me over a decadent chocolate cake to truly mark the celebration. We then called it a night at 2 am, after hours of dining and merrymaking.
The next day quickly arrived, with a serene sunrise enveloping the area, as far as the eye could see. With the dunes basking under the sun, I thought that this was a great time to do some meditating, away from the hustle and bustle of the busy city.
Afterwards, I tried to ride the local form of transport – a camel – which took me around the area surrounding my base camp site. Relaxing as it was, it was now time to go back to Marrakech to continue my journey.
Making my way back to Marrakech, I felt that the sights of the Sahara Desert were even more striking the second time around. It might be because I got to appreciate its beauty further as I celebrated my birthday.
As we then stepped back into Marrakech, we took another visit into its Old Town, where I continued to shop for more crafts. This time, I had to look at Marrakech's traditional ceramics, and try a sweet, chewy pastry called Chabakia.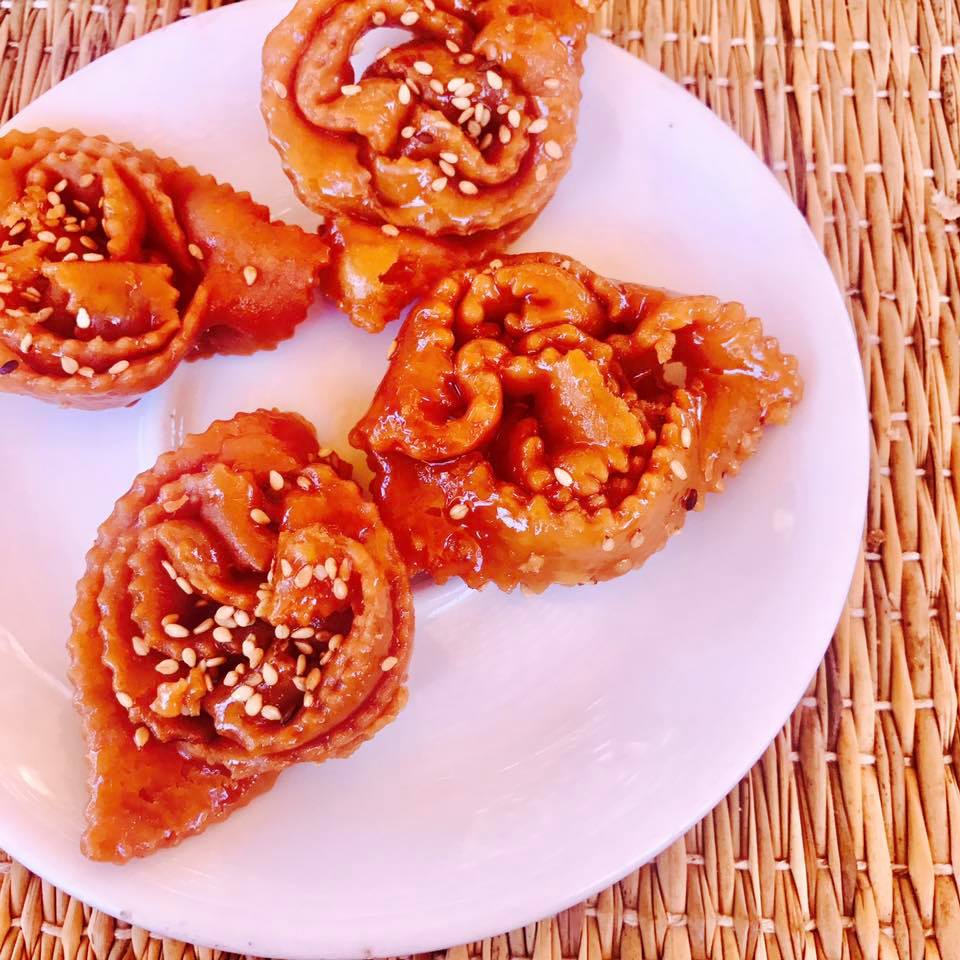 Shopping aside, I was also surprised to receive a thoughtful birthday gift, which was a cookbook written by one of Morocco's most renowned chefs. As someone who loves to whip up all kinds of dishes, this was another great addition to my collection.
We then spent our afternoon watching the sunset at Marrakech's main medina or square. As it was still Ramadan season, the locals were all awaiting to feast on their finely prepared meals all around the city.
In our case, we had our late dinner at the Palais Jad Mahal, with its traditional dancers, and varied menu of Moroccan, French, and Thai cuisine.
The next day, we hurried off to our scheduled cooking class at the La Maison Arabe. There, we learned the step-by-step process of cooking Chicken Tagine, all thanks to the expertise of our dada, or a traditional Moroccan cook.
We continued to wander around the Old Town, making a quick stop at the Les Baines de Marrakech, a Moroccan-style spa where visitors can avail of various relaxing massages and other treatments.
Late into the evening, I had this sudden craving for Italian food. Finding the best one nearby, we stumbled into the La Mamounia Marrakech, where the interior boasted an intricate design, and the food an equally delightful taste.
Heading back into our hotel, I was glad to have spent my third day experiencing Marrakech beyond its typical guidebook itinerary.
After calling it a night, I then started my day with another fun camel ride at the palmery, right before heading to my first stop of the day – the Palais Bahia.
Built in the late 19th century, it was intended to be the greatest palace of its time by its owner Si Moussa and one of his beloved wives.
I then decided to have my lunch at the nearby Ksar El Hamra, where I was treated to a feast of various Moroccan meats and other local dishes.
It was finally time to do another popular Marrakech pastime – spice shopping! Going inside the Souk Marrakech, I was bombarded by a variety of aromas coming from the different rare spices sold at this ancient market.
After wandering around looking for the perfect spices to bring home, I then ended my day by going back to my hotel. It was time to get some much-needed rest, as the next day marked the end of my Moroccan adventure.
Wanting another hotel experience, I decided to move the next day to the Four Seasons Marrakech, where I was surprised to see a unique combination of Western and Moroccan-style interiors. Marrakech definitely has a lot of beauty up its sleeve.
We then took one last tour of the Old Town, going inside another famous filming location where Carrie Bradshaw (of Sex and The City) bought a stylish pair of shoes.
Right after, we had some relaxation back at the Four Seasons Hotel, before packing up for our flight to Manila.
Celebrating my birthday in Morocco was a memorable treat. As I end my trip to this fascinating country, I will always look back on the wonderful experiences I had – from the beautiful crafts and markets of the Old Town to my adventures in the winding Sahara Desert. #JuanderWithUs for more eventful travels spanning Africa, the Middle East, and beyond.