Welcome to third and final part of my Italian travel, which takes us from Sorrento in Naples, Italy to the quaint villages of Positano, Amalfi, and Ravello along the Amalfi Coast. We arrived at the Capri dock on time at 4:30PM, but the ferry we booked had left earlier than expected. Good thing there was an Amalfi-bound ferry, which took us to Positano, one of the popular towns in the Amalfi Coast, in just half an hour.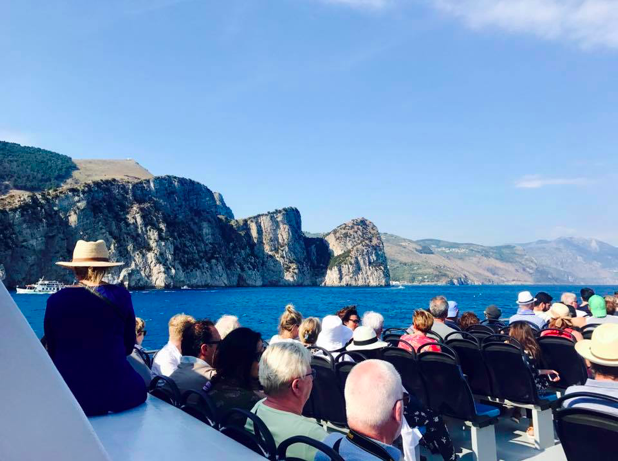 The Amalfi Coast looked wonderful from the Mediterranean Sea, with its pastel-colored villages stretched across the coastline. Positano is one of the most popular among the villages. I liked its laidback atmosphere that puts tourists at ease with all the locals. I couldn't help but compare it with Capri, where the scene seems glitzier, and where locals and tourists live far apart.
We arrived at Hotel Covo Dei Saraceni at 5PM. Inside, it's not difficult to see why this is rated 5-star. The ambiance is clean, elegant, and features lovely Mediterranean ornaments. The hotel is only 20 meters from Positano's beach, giving our room an awesome view of the cityscape. It's springtime, so only a few tourists were at the seaside. Most of the happenings are uphill, so we decided to walk around the village instead.
Positano has more galleries than Capri, which only has two. Franco Senesi Fine Art was one of the galleries we visited. I enjoyed appreciating the diverse masterpieces displayed across its garden-like environment.
In between the galleries, we also shopped at the different artisan shops that sell handmade goods like shoes, bags, and island souvenirs.
We had already walked about 2 kilometers uphill and it was already nighttime before we knew it. For dinner, we dined at Da Vincenzo, which was given the Michelin Plate for "good cooking". I could not agree more, because the food was fresh and tasty, and went really well with wine. The menu slightly varies every day, depending on the catch and produces in the local market. All these put Da Vincenzo in the league of the best restaurants in Italy on my list.
On our second day at the Amalfi Coast, we traveled to its namesake town of Amalfi, assisted by our Tom Cruise lookalike tour guide.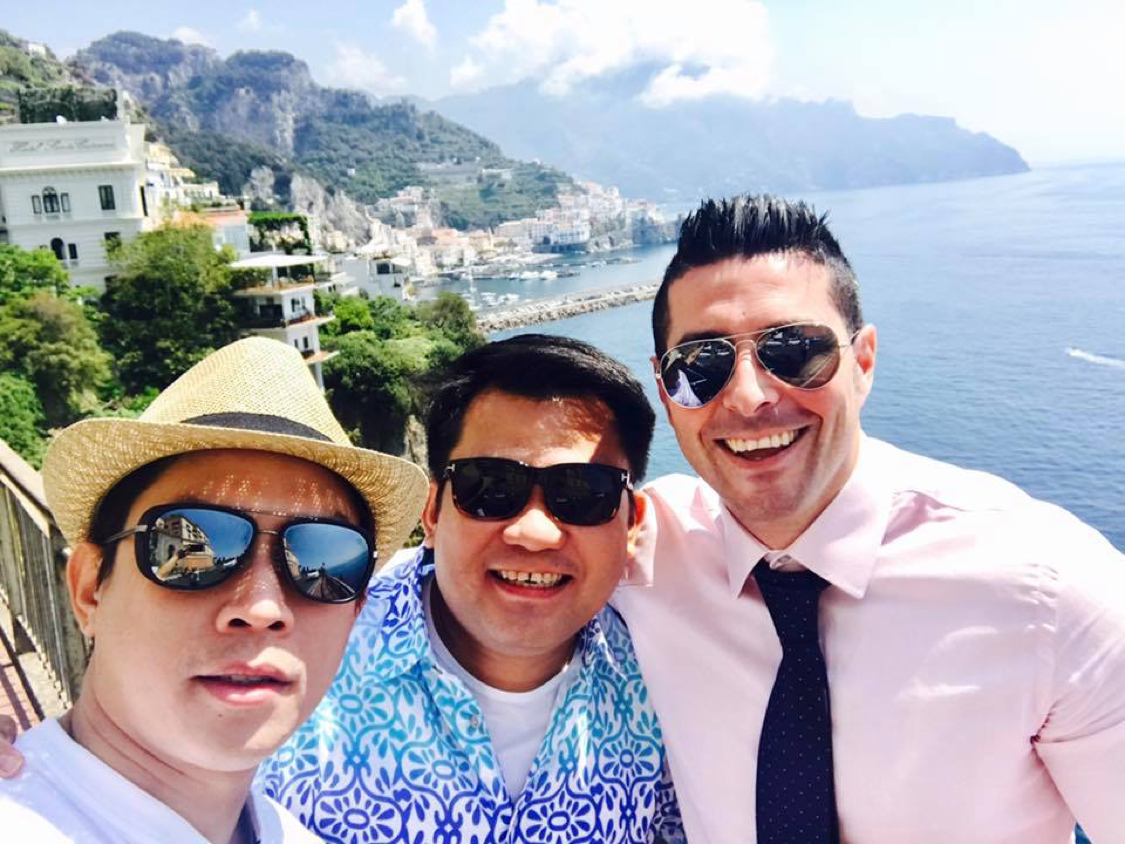 We stopped along the vertical hillside stretch of the Furore, which gave us a great view of the sapphire waters of the Mediterranean. It is also home to an open air museum of murals along the cliff- side road.
This town is popular for Limoncello, Italy's favorite digestivi or after-dinner drink.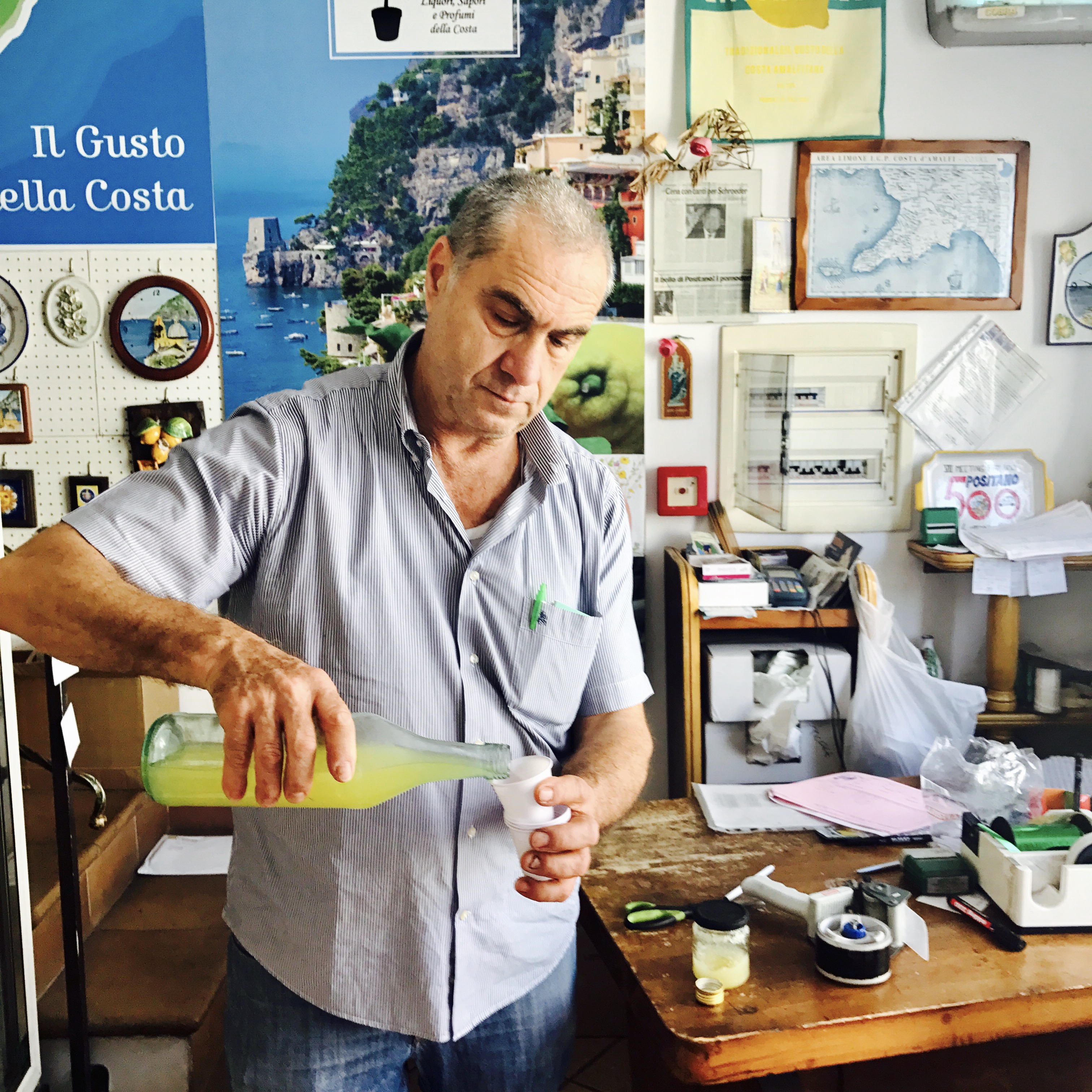 Our tour guide also led us to see the Amalfi Cathedral, a huge and awe-inspiring architectural complex that houses the Basilica of the Crucifix and the steps into the Crypt of St. Andrew. Everything about this place is beautiful, from its Romanesque-Baroque design and artful religious antiques. Every step toward the Crypt of St. Andrew made us realize why this is often called the "Spanish Steps of Amalfi".
After hours of sightseeing, we stopped by the 5-star Belmond Hotel Caruso. Just like our hotel in Positano, this hotel also boasts of a panoramic Mediterranean view. It also houses the Belvedere Restaurant, which served us fresh Italian dishes for lunch.
Another stop was in Ravello for Villa Rufolo, a terraced garden villa that dates back to the thirteenth century. It looks like a fort outside, and features lush gardens that overlook the Amalfi Coast and the Mediterranean Sea.
We took some afternoon coffee break at the 5-star Il San Pietro di Positano. It's one of the well-loved hotels in town because of its "scenic elevator" that gives guests a view of the Amalfi landscape while being lifted from floor to floor.
Our tour guide told us not to miss out on Le Tre Sorelle, an Italian restaurant that serves traditional food from its family heirloom recipes. We had mussels, pasta, and salad—all of which were big in serving and flavor. There was also a live musical act that serenaded diners with lively Italian tunes.
Our third day in Amalfi Coast was also our last, and we made it count by boating and swimming at the beach.
Going back to Rome, we did not miss the chance of passing through the town of Sorrento. There, we visited an art gallery that sells paintings by Fernando Botero, one of the respected contemporary artists in Italy. I also cooled down by having some "streetside" artisanal gelato.
I even bought a bespoke leather bag from an artisan shop that is as well-crafted as other premium bags I own. Just the perfect Italian souvenir I'd love to bring anywhere.
As we went back to Rome, we visited the Spanish Steps located east of the old city center. Nearby, a party was being held, taking advantage of the pink azaleas that decorate the steps every April to May each year. Our last stop was the famous Trevi Fountain before heading back to our hotel.
The weather was clear and the water was calm. We enjoyed taking in the sights of the Amalfi Coast for the very last time, before embarking on another exciting journey, so #JuanderWithUs to join us in our next excursion.