They say that travel is worth any cost or sacrifice. But the moment your wellbeing is compromised, you'll find it's still better to be prepared.
Let me share with you my advice on travel insurance, and why you need to have one ready, in case things go wrong in the middle of your trip.
Just recently, the day before I left for my evening flight to Australia, I woke up feeling a slight pain on my back. This had me worried, and figured it's best for me to renew my ASSIST CARD.
It's a good thing I did because although it was tolerable when I boarded the 8-hour flight, the pain worsened to a point where I was paralyzed 5 hours before landing.
It was excruciating, I could not move my feet, and it had me causing a fuss on the plane. I found out upon talking to the attendant that they don't just give out medications, not until the Air Medic said so. So while in-flight, the attendants called the Air Medic on-ground, and had them on stand-by the moment we land. This happened while I was with the attendant and the first officer on the plane.
Believe it or not, the pain was too severe that I failed to enjoy the comfort and luxury of Business class.
Upon the advice of the Air Medic, I was finally given pain killers, which gradually gave me relief. I was told that a doctor and a wheelchair was waiting for me when we land.
The ASSIST CARD came in handy when we got to Melbourne, because that's when the painkillers wore off and the searing pain came full blast.
The ASSIST CARD number I called, and what The Royal Melbourne Hospital looked from outside.
We were staying at the Grand Chancellor Melbourne and the hospital was just a 5-minute taxi ride away. When I got there it felt like I was given a hotel treatment, to which I had to go through a process.
The nurse at window 1 advised me that for tourists to see a doctor, it would cost 500 Australian dollars, a portion of which would be covered by the ASSIST CARD.
 The triage nurses at the counter, and a photo of me and Ivan at the lobby.
After 30 minutes of waiting, and after my urinalysis, I was called to see my doctor at the consultation room.
 Patiently waiting inside the consultation room.
After seeing the result of my urinalysis, the doctor's initial diagnosis were kidney stones. He then said that it will be very costly if I was treated there, and administered my take of pain relievers, for me to enjoy my 10-day vacation.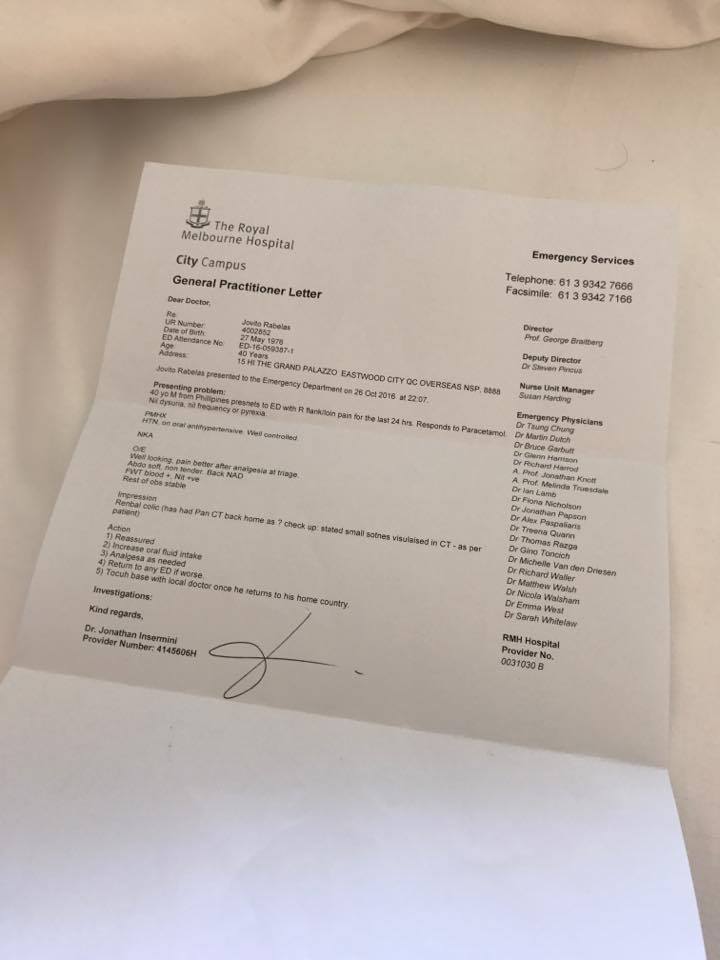 My condition improved, however, when we got to Cairns, but it came back when we were on our last day at Sydney.
I did my hospital follow-ups and a succeeding procedure here at home, immediately after my trip ended. The whole trip was a reminder that mishaps happen to everyone regardless of who you are, what you are doing, and where you might be in the world.
Getting a travel insurance means planning ahead and prioritizing your safety in the duration of your trip. When done with the right provider, it gives you peace of mind for whatever travel emergency you might have to deal with.